Japan Earthquake & Tsunami Emergency Relief (3rd Report)

Statement by UNICEF Executive Director Anthony Lake on Japanese Earthquake and Tsunami
[New York, March 14, 2011]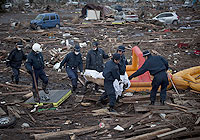 © UNICEF/NYHQ2011-0426/Dean
Rescue team working at Sendai Airport in Miyagi Prefecture, Japan. This airport was hit by the earthquake on March 11 and the subsequent tsunami.
On March 14, Anthony Lake, UNICEF Executive Director, released a statement to extend his heartfelt sympathy to the victims in the disaster hit areas and to announce that UNICEF is ready to support to those who affected by the catastrophe.
"As the world unites in support for the people of Japan, we at UNICEF express our heartfelt sympathy for the tragic loss of life following the massive earthquake and tsunami." "This double catastrophe has left the country and its friends stunned and bereaved, and new threats caused by the quake and its aftermath continue to be of utmost concern to us all."
"As in all emergencies of such devastating magnitude, children are the most vulnerable. Working in close cooperation with the Japan Committee for UNICEF, we have offered our support to protect the children affected by this catastrophe and to provide critical services in the days ahead." (Executive Director Lake)
Japan, One of the World's Most Generous Nations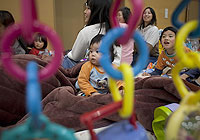 © UNICEF/NYHQ2011-0424/Dean
Mothers and children playing in an emergency evacuation center for people afflicted by the earthquake and tsunami in Koriyama City, Fukushima Prefecture, Japan
Mr. Lake visited Japan last May, less than two weeks after becoming UNICEF's Executive Director, to take part in a child-rights advocacy event at United Nations University, Tokyo. There he met with His Imperial Highness Crown Prince Naruhito, senior government officials, representatives of the Parliamentary League for UNICEF and the Japan Committee for UNICEF, Japanese Goodwill Ambassadors and children.
During his stay in Tokyo, Mr. Lake thanked the Japanese government and Japanese people for their extraordinary support for children in the world. Japan has long been one of the leading sources of both government and private-sector support for UNICEF.
"The Japanese government and the Japanese people, are firm supporters of UNICEF's mission to help improve the lives of children." "Japan's leadership on the Millennium Development Goals has also been, and will continue to be, very significant," said Executive Director Lake last May.
"We stand ready to assist."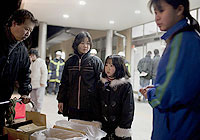 © UNICEF/NYHQ2011-0421/Dean
A girl and her parents stand in a line to receive drinking water in an emergency evacuation center in Fukushima Prefecture, Japan.
In the statement released today, Executive Director Lake once again expressed appreciation for the historic support Japan has been provided for vulnerable children and families, and said UNICEF was ready to assist Japanese people in these days of greatest need.
"Our thoughts and prayers are with the people of Japan, one of the world's most generous nations." "We stand ready to assist them as they have helped so many others, in these, their days of greatest need."
The Japan Committee for UNICEF was founded in 1955 and has grown to become a leading force for child rights in Japan and around the world. UNICEF also maintains a headquarters office in Tokyo to coordinate advocacy and communication work with government policy makers.