Japan Earthquake & Tsunami Emergency Relief (8th Report)

Details of Support Agreed with Miyagi Prefecture
[Tokyo, March 20, 2011]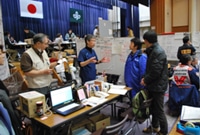 © Japan Committee for UNICEF
Dr. Osamu Kunii (second right) and staff members in a meeting at the Disaster Management Office of the Miyagi Prefectural Government
Staff members of the Japan Committee for UNICEF arrived at disaster hit areas in Sendai City, Miyagi Prefecture on March 20. They met with the staff in charge of medical care and education at the Disaster Management Office of the Miyagi Prefectural Government Office and confirmed that the support of the Committee was needed in both these fields.
Co-op Miyagi, a long-standing partner of the Committee, has been continuing emergency support activities, although their own business and employees have been seriously affected by the earthquake and tsunami. Co-op Miyagi is helping about 1,000 shelters in the prefecture, where 155,000 people have been forced to seek refuge. There is a shortage of supplies at the shelters, particularly of sanitary products, underwear, stationery, school bags, and shoes. The Committee is currently making arrangements for these supplies to be transported to the shelters.
"As in all emergencies of such devastating magnitude, children are the most vulnerable. Working in close cooperation with the Japan Committee for UNICEF, we have offered our support to protect the children affected by this catastrophe and to provide critical services in the days ahead." (Executive Director Lake)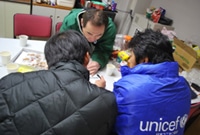 © Japan Committee for UNICEF
Dr. Osamu Kunii (right) and staff members in a meeting at Co-op Miyagi
On March 19, one week after the earthquake and tsunami struck, graduation ceremonies were held in disaster hit areas. Many children were not able to attend their graduation ceremonies, which is an important milestone in their lives. The Japan Committee for UNICEF is continuing to work toward providing psychological support for children in these areas.