Japan Earthquake & Tsunami Emergency Relief (9th Report)

Meeting in Fukushima and Iwate Prefectures on Details of Support
[Tokyo, March 21, 2011]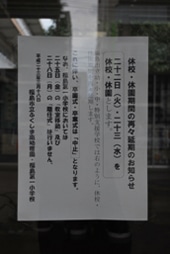 © Japan Committee for UNICEF
"Announcement of Closing of School and Cancellation of Graduation and School Closing Ceremonies" posted at the entrance of Fukushima Municipal First Elementary School
More than one week has passed since the catastrophic earthquake and tsunami struck. Ordinarily, this is a time of year when students graduate or start a new school year, but a number of school buildings were partially or completely destroyed in the affected areas. Many schools have been forced to cancel classes and even graduation ceremonies, which is an important milestone in children's lives. The Japan Committee for UNICEF is providing support toward resuming school activities and is voicing the need for psychosocial care for children, who are extremely vulnerable in the current circumstances.
On March 20, the Committee's field team in the affected areas visited the Disaster Management Office of Fukushima Prefecture, and discussed the possibility of providing support in education and other fields. Since many residents, including children, are beginning to evacuate from areas in the prefecture due to the ongoing problems at the nuclear power plant, it is difficult to accurately determine the number of affected children and where children are staying. In addition, much of the information we have received confirms that providing support is very difficult given that the situation is changing from hour to hour. The staff members of the Committee plan to discuss the possibility of support again on March 21 with the concerned parties from the prefectural subdivision.
© Japan Committee for UNICEF/2011/K.shindo
Sisters looking at their completely demolished hometown from the high ground where they took refuge (March 20, 2011, the town of Minami-Sanriku, Miyagi Prefecture)
Staff members from the Committee and a Japanese expert deployed from UNICEF Somalia Support Center who has been dispatched to the disaster hit areas in Miyagi and Iwate Prefectures also met with the staff in charge of health care and education from the Disaster Management Office of each prefecture, together with Co-op Miyagi and Co-op Iwate, to discuss the support activities in the days to come.
Emergency support supplies, such as "School in a Box" kits, recreation kits, and early childhood development (ECD) kits (each ECD kit has enough items for about 50 children and contains 37 different kinds of teaching materials and playthings designed for children under the age of six at different stages of development), sent from UNICEF's main supply warehouse in Copenhagen, Denmark are scheduled to arrive soon. Through the support of partner organizations, the Japan Committee for UNICEF is also preparing to deliver children's underwear, diapers, shoes, school bags, and water.