Japan Earthquake & Tsunami Emergency Relief (10th Report)

Support Supplies from Overseas to Arrive Soon
[Tokyo, March 22, 2011]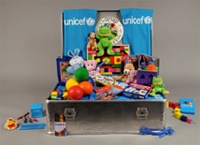 © UNICEF/NYHQ2009-1037/Markisz
"Kindergarten in a Box" (Early childhood development kit)
Today (March 22), the first shipment of emergency support supplies, such as "School in a Box" kits, recreation kits, and "Kindergarten in a Box" kits (early childhood development (ECD) kits), left UNICEF's main supply warehouse in Copenhagen, Denmark.
Recreation kits and "Kindergarten in a Box" kits were sent in response to a request made by the local governments in the affected areas. Each recreation kit contains sporting equipment and playthings, such as flying discs, jump ropes, soccer balls, volleyballs, whistles, blackboards, and pieces of chalk, for 270 children. Each "Kindergarten in a Box" kit has enough items for about 50 children and contains 37 different kinds of teaching materials and playthings designed for children under the age of six at different stages of development.
Many children in the disaster-affected areas live in fear and feel tremendous stress, so it is essential that they are provided with psychosocial care. These support supplies may offer some solace to children living in such hardship.
Relief supplies donated by partner companies arrive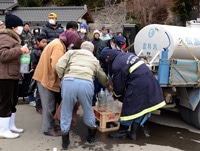 © Japan Committee for UNICEF/2011/K.shindo
Water being distributed in the town of Matsushima in Miyagi Prefecture
Six tons of bottled water, of a total of 20 tons donated by VanaH Co., Ltd. to the disaster hit areas, where essential relief supplies such as water are still hard to come by, arrived today (March 22) at Kamaishi City in Iwate Prefecture with the help of a partner organization (Rissho Kosei-kai). Relief supplies will also be put to use to help provide psychological support for children and more relief supplies are being prepared with greater urgency.
In addition, staff members of the Japan Committee for UNICEF arriving today will deliver samples of the "School in a Box" and "Kindergarten in a Box" kits to the affected areas in Fukushima Prefecture before the other kits arrive.
The Japan Committee for UNICEF will continue to provide emergency support in addition to psychological support for children and support toward resuming school activities for the new school year.