Japan Earthquake & Tsunami Emergency Relief (11th Report)

The first flight carrying relief goods from overseas arrives at Narita Airport
[TOKYO, Japan, 23 March 2011]
© Japan Committee for UNICEF
UNICEF relief goods being unloaded from JAL408, which arrived at Narita at 15:21 on March 23, 2011.
This afternoon (March 23, 2011), the first flight carrying relief goods from the Copenhagen warehouse for the victims of the earthquake arrived at Narita airport. The goods that arrived are School-in-a-Box, Childhood Development (ECD) Kits, and Recreation Kits.
Children from areas hit by natural disasters or other tragedies often suffer from stress and feel afraid, and so it essential they are provided with psychosocial care. In disaster hit areas around the world, UNICEF provides emergency support, which includes water supply, sanitation provision, and implementation of infection prevention measures, such as vaccinations.
At the same time, UNICEF considers school and kindergarten activities, which are what children would normally do in everyday life, an important part of psychological support for children, and so we focus on resuming these and providing opportunities to play. The boxes and kits that arrived today play an important role in this. Childhood Development (ECD) Kits, which is a duralumin case containing intellectual training and play items used in kindergartens and nursery schools, enables school, kindergarten, and nursery school activities to be conducted anywhere. In addition, the Recreation Kit provides a set of sporting goods and stuffed toys, and the School-in-a-Box contains stationery sets and blackboard paints for 40 children.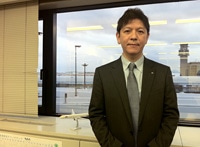 © Japan Committee for UNICEF
"We are very happy to be able to cooperate with you in this work. We hope these goods can be delivered to people hit by the disaster as soon as possible," said a Public Relations representative for Japan Airlines. Japan Airlines helped us by providing transportation for these goods without charge.
The three types of kits that arrived at Narita will go through customs on March 24, 2011 and will then be sent to disaster hit areas, including those in Miyagi Prefecture. On the following day, Thursday, they will be provided to children in the shelters with the support of UNICEF's professional Japanese staff, who will visit the sites to provide assistance. Following the wishes of its partner organizations, such as local municipalities, and of the children in the affected areas, Japan Committee for UNICEFaims to provide full support for essential psychosocial care by supplying these relief goods, and support for the resumption of school, kindergarten, and nursery school activities.
Importance of care for mothers and their children
On March 22, 2011, Kunii Osamu, M.D. from UNICEF Somalia , who had already arrived in the affected area, visited disaster hit areas in Kesennuma City, which is 3 hours away from Sendai by car. He visited shelters where the staff of Rissho Kosei-kai, a partner organization that has provided long-term support to Japan Committee for UNICEFin the form of donations and public relation activities, have been engaging in their own relief activities.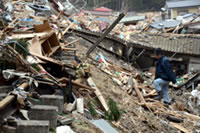 © Japan Committee for UNICEF
A JR Kesennuma line track pushed against residential houses due to the effects of the earthquake tsunami.
Because many of the schools in Kesennuma City are currently being used as shelters, there is no plan to re-open them for normal school activities. It is difficult to fully understand the current situation in the affected areas, since things continue to change from moment to moment.
Dr. Kunii met 20 nursing mothers at the Kesennuma City Gymnasium, which is one of the largest shelters in the area and which is currently providing shelter to approximately 1,000 people. Dr. Kunii reported the mothers as saying, "Only one mother there is breast-feeding and there are many other mothers using nursing bottles," "In emergencies like this, it is often difficult to maintain a suitably sanitary environment. I am concerned about health and sanitation problems." Currently, Dr. Kunii is working to establish a system to collaborate with medical professional organizations in and outside the prefecture in order to begin caring for mothers and their babies and to encourage breast-feeding.
Children's underwear to be delivered to Iwate and Onagawa
The 200,000 items of children's underwear that arrived at Sendai on March 22, 2011 will be distributed to the shelters in Onagawa, Miyagi by the evening of March 23, 2011 and to the shelters in Iwate Prefecture by the following day.
As these support activities supplying relief goods continue, Japanese professional staff members working in each of the UNICEF locations in the world arrived at Japan Earthquake & Tsunami Emergency Relief Operation Room established at UNICEF House in Tokyo on March 23, 2011. Professional staff members who had temporarily come back to Japan for a vacation also visited the operation room to give a helping hand to the victims.