Japan Earthquake & Tsunami Emergency Relief (12th Report)

It may only be for a moment, but the children are able to smile again
[TOKYO, Japan, 24 March 2011]
© Japan Committee for UNICEF/2011/K. Shindo
Children smiling after receiving stuffed animals from Dr. Kunii in Onagawa, Miyagi Prefecture.
Relief supplies from UNICEF continue to arrive at disaster areas. On March 23rd, UNICEF worked in concert with its long-time partner - the Miyagi Cooperative Union - to begin distribution of relief supplies such as children's underwear, stuffed animals and toys to children at approximately 1,000 shelters around Miyagi Prefecture. Nearly 154,000 people are currently forced to live at these shelters, of which 13% are estimated to be children.
Dr. Osamu Kunii of UNICEF Somalia had been personally passing out stuffed animals to children at shelters in Onagawa Town in Miyagi Prefecture before sending the following message to staff at the UNICEF House in Tokyo.
"Today, when handing out stuffed animals, I watched the children's faces as they lit up with smiles and it made me feel like crying. These families, and the entire region for that matter, have lost everything, as if they had suffered the dropping of an atomic bomb. But they escaped and are now forced to undergo difficult living conditions in the cold, and, from what I can tell, in general unclean, foul smelling shelters. But then I see a child-and it may be for only a moment-and that child smiles. That's when I realized how happy I am to be working for UNICEF."
"Working on the front line like many of us do is really a luxury. I say this because, while everyone is working just as hard, we are the only ones who get to see these bright smiles. However, this is only possible because of the hard work of all of those providing assistance behind the lines. Assistance activities have just begun, but I would like to already give a big thanks to everyone providing back-end assistance in Tokyo. Let us join hands in continuing to do what UNICEF, and only UNICEF, can do."
From Narita to the disaster area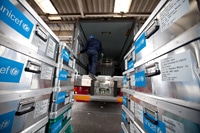 © Japan Committee for UNICEF/2011/Grehan
Relief supplies from UNICEF leaving Narita Airport.
The Early Childhood Development(ECD)Kits and recreation kits that arrived at Narita Airport yesterday are to be delivered in Miyagi and Iwate Prefectures together with diapers and other relief supplies by this evening, March 24th. In addition, approximately 30,000 two-liter bottles of drinking water will also be arriving in Fukushima Prefecture today. Relief supplies such as children's underwear are also being distributed in Iwate Prefecture.
Current arrival status of relief supplies
Receiving
Prefecture
Type of Emergency Supplies
Arrival Date
Quantity
Comments
Miyagi
Water
19 Mar.
12,288 bottles
Two-liter plastic bottles
Fukushima
Water
22 Mar.
12,672 bottles
Two-liter plastic bottles
Miyagi
Underwear for boys and girls
22 Mar.
200,000
Iwate
Underwear for boys and girls
23 Mar.
30,000
Fukushima
Water
23 Mar.
4,680 bottles
Two-liter plastic bottles
Miyagi
Children's shoes
23 Mar.
10,000 pairs
Miyagi
Children's diapers
24 Mar.
80 packs
Iwate
Children's underwear
24 Mar.
9,700
Fukushima
Water
24 Mar.
12,288 bottles
Two-liter plastic bottles
*In certain cases some supplies may be taken from prefectural supply storage warehouses and distributed to shelters and disaster sites in other prefectures.
As of 9:00 a.m. on March 24, 2011 (compiled by the Information and Public Affairs Division).