Japan Earthquake & Tsunami Emergency Relief (15th Report)

Partnering with groups of Japanese and foreign experts
[Tokyo, Japan, 26 March 2011]
The knowledge of UNICEF
© Japan Committee for UNICEF/2011/K. Goto
Boys playing with drawing sets from a Kindergarten in a Box kit. Pictured on the left is Naoko Imoto from the UNICEF Office in Haiti.
On the evening of 25 March, the first Early Child Development (ECD) kits were delivered to a shelter set up at Hebita Junior High School in Ishinomaki City, Miyagi Prefecture. Ken Hayami, the Executive Director of the Japan Committee for UNICEF (JCU), described to us what he observed at the shelter when the kits were delivered:
"I watched as children played together with the junior high school student volunteers. In just a few minutes their eyes began to gleam with joy as they played with the toys and grew more and more enthusiastic. That's when I realized that this is exactly what they needed. I can now see that the knowledge and experience of UNICEF is tremendously well incorporated into these kits. Mothers that participated with younger children were very happy, too. Even the UNICEF staff that accompanied me were surprised by the impact of the kits."
Partnering with groups of Japanese and foreign experts
© Japan Committee for UNICEF/2011/K. Goto
A girl playing with blocks from a Kindergarten in a Box kit.
Somewhere between 400 and 500 kilometers of the Japanese coastline has been left in shambles and more than 250,000 people have been forced to live in shelters. Furthermore, delivering assistance to people that have been able to return to their homes is surfacing as an important issue. Against this backdrop, it is not possible to carry out this type of assistance using JCU and UNICEF experts alone. Here in Tokyo, Mr. Izumi, a child protection expert that has come to Japan from the UNICEF Nigeria Office to offer assistance, and JCU staff member Mr. Kikugawa met with groups of Japanese experts yesterday that have been working to provide psychological assistance to children by engaging through play. In the meeting, everyone agreed to continue to cooperate in providing psychological assistance for children using Child Friendly Spaces (CFS) through efforts such as training teachers and volunteers involved in the operation of the CFS, establishing a referencing system for children in need of specialized counseling and medical care, and setting up counseling services for mothers and fathers. There are also plans to crystallize and put into effect partnerships with groups of Japanese medical experts by the beginning of next week in order to respond to the special assistance needs of infants and pregnant and breastfeeding women.
Securing logistics routes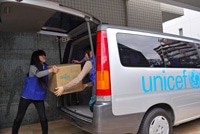 © Japan Committee for UNICEF/2011
Relief supplies being loaded into a vehicle at UNICEF House in Tokyo.
On 25 March, JCU sent a shipment of children's shoes and boots to Iwate prefecture. On 27 March, children's underwear will be sent to Iwate Prefecture. Moreover, disposable diapers, wipes and other supplies were delivered to the UNICEF House by manufacturers on the morning of 26 March. If all goes smoothly these will be sent to Miyagi and Iwate Prefectures along with other supplies on the 27th.
Meanwhile, although a large number of people have returned to living at home and economic activities in disaster areas are gradually picking back up, it is growing increasingly difficult to store these relief supplies and to secure routes for delivery to shelters. Yuji Taketomo, an expert in logistics and procurement that has come to Japan from the UNICEF Afghanistan Office to provide assistance, traveled to Sendai yesterday in order to help solve this problem. He will be boarding a truck loaded with relief supplies tomorrow, 27 March, and traveling to Iwate Prefecture.