Japan Earthquake & Tsunami Emergency Relief (17th Report)

JCU staff partnering with UNICEF experts
[Tokyo, Japan, 28 March 2011]
© Japan Committee for UNICEF
Relief supplies being passed out to children.
More than two weeks have already passed since a major earthquake struck northeastern Japan. The Japan Committee for UNICEF (JCU) is working in full force together with experts from local UNICEF country offices, municipal governments from the seriously affected areas and partner groups active on-site to provide assistance to the children of the Tohoku region. Dr. Yasuda, who was dispatched from the UNICEF Vietnam Office to provide assistance, traveled with JCU staff member Yutaka Kikugawa, who since last week has been on his second mission to Iwate Prefecture, on 27 March (Sunday) and together delivered UNICEF recreation kits to children in a shelter at Ando Primary School in Otsuchi Town with the help of the Iwate Cooperative Union.
The recreation kits were delivered to the shelter with the assistance of volunteer junior high school students, and it appears that the children greatly appreciated UNICEF's relief supplies. "I watched as a smile filled the face of 13 year old Mibuki Oguni, one of the volunteering junior high school students, as she watched how happy the kit made a two year old girl," commented Mr. Kikugawa.
Mr. Kikugawa continued, "I have a son of my own, so seeing smiles on the faces of children at the disaster area was enough to bring tears of happiness to my eyes." Today, 28 March, Mr. Kikugawa is holding discussions with Iwate Prefectural Government personnel on details for future assistance measures.
Meanwhile, in Sendai, JCU staff member Akira Taniguchi continues delivering relief supplies to shelters, assisting dispatched UNICEF experts with their travel and stay in the disaster areas and responding to the media and coordinating with partner organizations in Miyagi Prefecture. Mr. Taniguchi described the situation to us:
"On 27 March, the vehicle that we were using to get from Sendai to Kesennuma ran out of gas and we were forced to turn back. Until gasoline supply improves, we are using taxis, as there is no immediate concern of gasoline shortages for taxis. Also, we are currently looking for an office in Miyagi to serve as a base for our future operations as well as a place to temporarily store relief supplies. It seems that education-related personnel from the prefectural government will be able to assist with recreation kits, stuffed animals, mats and other items, but we still plan to secure a storage area as soon as possible."
Active volunteering
On 25 March, the first shipment of Early Child Development kits were delivered to Hebita Junior High School in Ishinomaki City, Miyagi Prefecture. JCU reported on the delivery in a previous edition of this report. For this edition we talked with Rumiko Nishio, a former volunteer at JCU's branch office in Kanagawa Prefecture, who was present at the time of delivery. Ms. Nishio traveled to the disaster area to be a volunteer play partner with children. She told us about the scene when the kits were delivered, saying, "I yelled to all of the children staying at the gymnasium, 'It's play time!' and they all gathered around. It was important to call on them in that energetic way. The Early Child Development kits distributed by UNICEF were extremely useful, and even the mats provided by IKEA were put to great use."
Report from Ms. Imoto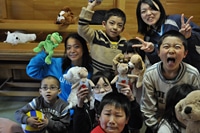 © UNICEF/2011/N. Imoto
The following report was received on the night of 28 March from Naoko Imoto, an education expert from the UNICEF Haiti Office.
"Today, 27 March, upon recommendation by the Ishinomaki City Education Council, I traveled to Aoba Junior High School in Ishinomaki City, where approximately 800 people are currently living in refuge. I established a Child Friendly Space in an open area within the school, where around 20 children played happily with the Early Child Development and recreation kits.
"In total there are just under 100 children staying at the shelter, and it appears that until now they had mainly been playing with manga and games. On the first floor there was a space where games (card games) were placed and several boys were playing. At first, actually, I was told that there was no place to set up a Child Friendly Space, but a teacher in the faculty office was kind enough to note that some space was open in front of the stairs. We then used the school broadcasting system to seek volunteers. Today I had the volunteers watch over operations, but at the meeting tonight there will be discussion on how to operate the Child Friendly Space in the future. Tomorrow, JCU volunteer Ms. Kurumisawa is going to visit the shelter again to hear the results of the discussion. JCU volunteer Mr. Nakajima also plans to go to the school from tomorrow and spend a few days on enhancing the management structure.
"Next, also by recommendation of the Education Council, I went to Kama Primary School, where 292 people are currently taking refuge. However, they asserted that there was no space, so I left the kits there for the time being. There is no power or water, it is extremely cold and the first story is completely flooded with water. There are even cars scattered around the schoolyard. Of the nearly 600 children member to the school, they still cannot locate seven. At the time of the earthquake, first and second graders had already been dismissed from school for the day. The gymnasium was being prepared for the graduation ceremony and cannot be used until the end of the month. The schoolyard, too, cannot be used due to flooding, leaving children with no place to go but inside the schoolrooms.
"The library is lending out books, but according to the librarian, the children have already read all of the books. The vice principal told me, "There is no place for the children to play, so even the parents are trying to find somewhere new." There is to be discussion regarding the placement of (securing space for) Child Friendly Spaces tomorrow morning at the management meeting for the shelter, so I will confirm the situation tomorrow. "I will continue doing everything that I can to follow up with the relevant individuals in aim to ensure the establishment of Child Friendly Spaces, secure other recipient shelters and mobilize psychological care experts (play therapists)."
Current arrival status of relief supplies
Receiving
Prefecture
Type of Emergency
Supplies
Arrival
Date
Quantity
Donating
Company
Comments
Miyagi
Water
19 Mar.
12,288
bottles
VanaH Co., Ltd.
Two-liter plastic bottles
Fukushima
Water
22 Mar.
12,672
bottles
VanaH Co., Ltd.
Two-liter plastic bottles
Miyagi
Underwear for boys and girls
22 Mar.
200,000
Iwate
Underwear for boys and girls
23 Mar.
30,000
Fukushima
Water
23 Mar.
4,680
bottles
KIRIN MC DANONE WATERS Co., Ltd.
Two-liter plastic bottles
Miyagi
Children's shoes
23 Mar.
10,000
pairs
Miyagi
RChildren's diapers
24 Mar.
80 packs
P&G Japan
Iwate
Children's underwear
24 Mar.
9,700
Fukushima
Water
24 Mar.
12,288
bottles
VanaH Co., Ltd.
Two-liter plastic bottles
Iwate
Shoes
26 Mar
1,404 pairs
Achilles Corporation
Iwate
Underwear for boys and girls
27 Mar.
28,266
Iwate
Boots
27 Mar.
7,462 pairs
*In certain cases some supplies may be taken from prefectural supply storage warehouses and distributed to shelters and disaster sites in other prefectures.
As of 9:00 a.m. on March 28, 2011 (compiled by the Information and Public Affairs Division).