Japan Earthquake & Tsunami Emergency Relief (18th Report)

Major League Baseball and players association commit $500,000 to UNICEF toward Japan relief effort
[NEW YORK, USA, 28 March 2011]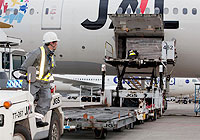 © UNICEF/NYHQ2011-0495/Grehan
UNICEF early childhood development kits, Schools-in-a-Box and recreation kits arrive at Narita Airport near Tokyo, Japan, procured by the Japan Committee for UNICEF for children affected by the earthquake and tsunami.
Major League Baseball (MLB) and the Major League Baseball Players Association (MLBPA) are joining together to contribute $500,000 toward earthquake and tsunami relief efforts in Japan to UNICEF, and will be encouraging baseball fans to support the effort during Opening Week and dates following. In-stadium fundraising drives will allow fans to join MLB and the MLBPA in offering additional support to the relief efforts.
"Major League Baseball is proud to provide help to our friends, peers and all the citizens of Japan at this critical time of need," said Baseball Commissioner Allan H. (Bud) Selig. "We are united in our effort to offer assistance and support at this dire hour for the people of Japan. We will continue to work with the MLBPA, the Clubs and the players in the days and weeks ahead to do everything we can to help this nation."
'Heartfelt concern'
© UNICEF/NYHQ2011-0496/Grehan
UNICEF supplies procured by the Japan Committee for UNICEF await transport from Tokyo to earthquake- and tsunami-affected areas.
"The MLBPA and its members join with the Commissioner's Office and the clubs in expressing our heartfelt concern for the welfare of the Japanese people, including our many friends in the Japanese baseball community," said MLBPA Executive Director Michael Weiner. "On behalf of the players, I also would like to thank the fans for their compassion and willingness to join in this effort."
The distribution of MLB/MLBPA funds will be directed by the Japan Committee for UNICEF, which has a well established network of relationships with private citizens, local NGOs, volunteers, schools and the business community.
The donations by MLB and the MLBPA are being made in a collaborative effort on behalf of the league, all 30 clubs, players, MLB Network and MLB.com. MLB clubs will observe a moment of silence on Opening Day and MLB Network and MLB.com will work with MLB and the MLBPA to encourage baseball fans to support the people of Japan in their time of need.