Japan Earthquake & Tsunami Emergency Relief (19th Report)

Early Child Development Kits 2: Kits depart Copenhagen for Japan
[Copenhagen/Tokyo, 30 March 2011]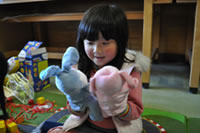 © UNICEF/2011/N. Imoto
A girl playing at a Child Friendly Space set up at a shelter at Aoba Junior High School in Ishinomaki City, Miyagi Prefecture.
From 25 March, Early Child Development kits and recreation kits have been delivered to shelters in Miyagi and Iwate Prefectures in north-eastern Japan. Initially, however, staff at the Japan Committee for UNICEF (JCU) and Japanese UNICEF experts, which have returned to Japan from their duty stations around the world to provide disaster relief, all had some doubts as to whether the kits, which were developed for use in the field in developing countries, would be well received by Japanese children. Nevertheless, children's eyes lit up with joy when the lids were lifted from the boxes (hard steel trunks) at the shelters. In fact, smiles filled the faces of their parents too as they watched their children with happiness.
International journalist Kenji Goto boarded a truck loaded with the first delivery of relief supplies (20 tons of drinking water) on 19 March and headed to Sendai. He offered us the following report on relief activities conducted by JCU in Miyagi and Iwate Prefectures from the start of this mission until two days ago:
"Parents cannot look after their children during the daytime because they have to search for family members and relatives that are missing or have to help clean up houses and surrounding areas that were impacted by the disaster. With many preschools and kindergartens out of use, parents and nursery staff that were also victim of the disaster are forced to keep smaller children at their homes on a rotational basis. Despite being left with nearly nothing at all, I heard some of these caretakers say, 'This type of assistance is direly needed.'"
JCU thus confirmed that efforts conducted using the first shipment of Early Child Development kits and recreation kits have been better received by children in the disaster areas than initially forecasted. Therefore, on 28 March, JCU sent out an order for 100 more of each of the two kit types. Responding immediately to our request, the UNICEF Supply Division in Copenhagen, Denmark shipped the kits on 29 March local time.
Messages from UNICEF offices around the world
JCU has been carrying out emergency assistance activities in response to the Tohoku-Pacific Ocean Earthquake with the full cooperation and support of UNICEF Headquarters. In conjunction with assistance from UNICEF Headquarters, here at JCU we have received donations along with messages of encouragement from UNICEF staff at local country offices from around the world as well as from the children of developing countries that receive assistance from Japan. The follow is a sample of such messages.
| | | |
| --- | --- | --- |
| | | |
| © unicef denmark | | © Japan Committee for UNICEF/2011/K.shindo |
| Relief supplies being prepared for Japan at the UNICEF Supply Division in Copenhagen, Denmark. | | The disaster area in Onagawa City, Miyagi Prefecture. |
"All of the staff here have been working to gather donations and we just transferred the money to you. We support the activities of the Japan Committee for UNICEF and we express our deepest sympathies for the people that have suffered from the disaster and pray that everyone will be able to return to days filled with peace and joy at the soonest stage possible. We believe that this disaster will serve to once again prove the perseverance and strength of the Japanese people."
Everyone at the UNICEF Bangkok Office

"Children here have been sending us messages of encouragement for the people of Japan. These messages have even been published in the local newspapers. Never give up!"
Mio Nemoto, UNICEF Gaza Office

"I would like to once again extend my heartfelt condolences for the victims that suffered or lost their lives as a result of the disaster. The other day, before his swearing-in, our newly elected president held a moment of silence for the victims of the Tohoku-Pacific Ocean Earthquake together with everyone that had gathered for his inauguration ceremony. During his speech, he also called on all citizens to keep the people of Japan in their thoughts, as Japan has assisted the Central African Republic for many years. While the hard efforts of people working at the disaster area may continue for many months to come, people around the world are standing up in support of the people of Japan. We at the UNICEF Central African Republic Office keep everyone in Japan in our thoughts."
Tanya Chapuisat, UNICEF Central African Republic Office Representative

"Office staff is collecting donations. People are even working together with friends to collect money for Japan. What Dr. Kunii's wrote (on the JCU website) immediately warmed my heart. I was moved to see how assistance from UNICEF directly reaches the children in disaster areas. You have my full support in helping provide the assistance that, as Dr. Kunii noted, only UNICEF can provide."
Miyuki Tsujii, UNICEF Nepal Office