Japan Earthquake & Tsunami Emergency Relief (23rd Report)

Start of psychological assistance training
[IWATE, Japan, 2 April 2011]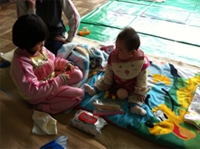 © Japan Committee for UNICEF
Children playing with toothbrushes at a shelter set up at Ohira Junior High School in Kamaishi City, Iwate Prefecture. At many shelters there are only a limited number of toys and places where children can play.
Over three weeks have passed since the earthquake and the grave situation at the disaster area continues. On 2 April, Japan Committee for UNICEF (JCU) staff member Yuka Miyata, who traveled to Iwate Prefecture on 1 April (Friday), visited Kamaishi City with Naoko Imoto, an education specialist being dispatched from the UNICEF Haiti Office to provide assistance in north-eastern Japan.
Seven kindergartens in Kamaishi City have already reopened their doors, and three more are working to restart classes by next week. An opening ceremony has even been planned for 19 April at Kamaishi Primary School, which currently serves as a shelter.
Meanwhile, children at Kamaishi Primary School and Ohira Junior High School, another shelter visited by Ms. Miyata and Ms. Imoto, have been using small spaces and nooks nudged between people that stay at the shelters as places to play. Toys and other supplies are very limited compared to the number of children. People staying at the shelter have also voiced concerns that children are beginning to become overstressed.
Ms. Nakayama, a midwife from the Association of Medical Doctors of Asia (AMDA) that is active at a shelter set up at Ouchi High School, commented that, "When a mother watches their child play it helps them reduce their level of stress. What can we do to help the mothers? That is a difficult question to answer at the present moment, but I am planning on creating a place where mothers can convene and communicate about their experiences."
Psychological assistance training
© Japan Committee for UNICEF
Teachers from local kindergartens and preschools participate in psychological assistance training held in Kamaishi City on 3 April.
JCU launched a training program for teachers and volunteers participating in psychological care activities on 3 April with the cooperation of the Japan Association for Play Therapy. The training was held at Ogawa Kindergarten in Kamaishi City and about 15 teachers from local kindergartens and preschools participated. The training provided on this day was entitled "Play Therapy Interaction" and entailed learning about psychological assistance for children based on play therapy expertise. Adults are able to convey their fears using words or other forms of expression. Children, however, have not developed that linguistic competency, and they thus tend to shut away these fears internally. By having children convey their feelings externally through playing, they are able to return the lost sense of normality to their lives while also reducing their mental stress levels.
© Japan Committee for UNICEF
Even the teachers that took part in the training sensed the role of psychological assistance achieved through playing and its effects.
"I learned that it was possible to provide assistance for children using dolls. I intend to incorporate the therapy methods that I learned today as an extension of make-believe games." (Ms. Chiba, Hirata Kindergarten) "I first thought that it would be best to put away the scary toys, but I learned that children are able to use dinosaurs, soldiers and other toys to express their own fears. I plan to incorporate these methods immediately starting tomorrow." (Ms. Oikawa, Shofukuji Kindergarten)
"There are children that are able to express their feelings and those that are not. I was troubled to find a way to address this issue because both types of children live here together. I plan on incorporating what I learned here in my mid- to long-term post-disaster assistance."(Ms. Sasaki, Kamaishi Preschool)
Providing assistance to adults is also a vital part of assisting children. The teachers that took part in this training spoke in detail of what happened on the day of the earthquake and the subsequent concerns they bear. The training created a comfortable space for adults to converse with other teachers that experienced the same situation as well as assistance experts. It helped teachers become more positive and gain confidence by learning the importance of and methods for understanding the feelings of children through playing.
The top priority is reconstructing schools
On the night of 2 April, Tadashi Yasuda, who was dispatched from the UNICEF Vietnam Office to assist in Japan and has been active on an assistance team in Iwate Prefecture, commented that, "Rikuzentakata City was one of the most devastated by the disaster. City Hall has been left in ruins while the municipal government is working from a temporary office set up in a small container house. However, amidst these circumstances, the education board created a document stating that 'the reconstruction of schools would be the top priority and that document was distributed to city residents on 29 March. Even amidst these terrible circumstances, the government has not forgotten about education. I think that is wonderful."
In Miyagi and Iwate Prefectures, JCU assistance teams continue day after day to communicate and coordinate with prefectural and municipal-level education boards, education-related divisions within municipal governments and various groups active in the field of education assistance in order to create concrete assistance plans in time for school opening ceremonies which are scheduled to take place from mid-April. We have received inquiries and requests from schools and municipal governments in the disaster area regarding stationery for children, school supplies and special vehicles for children that have trouble commuting to schools due to the destabilized transportation network. Based on the reports received from assistance teams in the disaster area, and with the support of many different corporations, personnel at the UNICEF House have continued to work through this weekend again in order to meet the needs of the disaster area.
*What is play therapy?
In a safe and comfortable environment and within the context of an appropriate and special interpersonal relationship, a child and play therapist play using toys. The play therapist encourages and helps the child express and explore their feelings, thoughts and behavior.
(Taken from the Japan Association for Play Therapy: http://www.ja4pt.org/)