Japan Earthquake & Tsunami Emergency Relief (25th report)

Preparations for the Back to School and Back to Kindergarten campaigns
[TOKYO, Japan, 5 April 2011]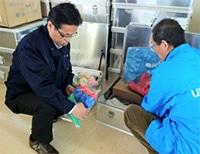 © Japan Committee for UNICEF
State Secretary for Foreign Affairs Chiaki Takahashi (left) in Iwate Prefecture examining relief supplies from UNICEF with Dr. Tadashi Yasuda from the UNICEF Vietnam Office.
As a part of efforts being carried out to provide psychological assistance for children, the most vulnerable in disaster situations, activities are underway in the disaster area to distribute Early Childhood Development kits and Recreation kits. On 4 April, State Secretary for Foreign Affairs Chiaki Takahashi, who had traveled to the disaster area in Iwate Prefecture to observe the situation, visited the temporary collection facilities for relief supplies set up within the prefecture. Secretary Takahashi saw the Early Childhood Development kits—sets of educational toys for approximately 50 children that can be used to conduct kindergarten and preschool activities regardless of location—and the Recreation kits—sets of toys such as sporting goods and stuffed animals for approximately 90 children. These kits arrived in Japan from the UNICEF warehouse in Copenhagen on 1 April.
Japan Committee for UNICEF (JCU) staff member Yuka Miyata, who is working to provide assistance on-site, told us about what she saw on Secretary Takahashi's visit.
"I could see that Secretary Takahashi had reaffirmed the importance of this psychological assistance for children. He was surprised by the convenience of UNICEF's supplies, which can be utilized immediately after opening the box, and told us that he now understands the need for this type of assistance."
Back to School, Back to Kindergarten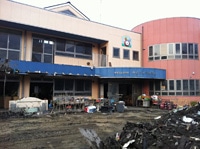 © Japan Committee for UNICEF
A kindergarten in Otsuchi Town; another town victim to the disaster.
Since the beginning of April, vigorous efforts have been carried out in various areas to prepare for the reopening of schools. Shelters set up at schools in many disaster areas have started a gradual process of restructuring, closing and combining themselves in order to prepare for the new school term. JCU is making preparations for a "Back to School" campaign that is based on providing school supplies and equipment to children and teachers by the time of the opening ceremonies of local primary schools.
Dr. Tadashi Yasuda, chief of the assistance team in Iwate Prefecture, commented that, "At the same time, preparations to reopen kindergartens and preschools are advancing at a very fast pace. Just as the Back to School campaign was needed to assist the reopening of schools, I think that a "Back to Kindergarten" type of assistance campaign is needed for kindergartens and preschools as well."
Dr. Yasuda continued, "Because of the continuing situation where parents are left unable to watch over their children and there is a lack of shelters and supplies, shelters are starting to close and staff from kindergartens and preschools are beginning to start working again."
While working to create Child Friendly Spaces at shelters that have not yet secured places for children to play, the JCU has also commenced preparations for providing Early Childhood Development kits, Recreation kits and other supplies that teachers and nursery staff need at these shelters.
Naoko Imoto, an education expert from the UNICEF Haiti Office that has been providing assistance activities in Iwate Prefecture since 1 April, commented that, "Some teachers and nursery staff broke down in tears while I was talking. I want to do everything that I can to help the teachers and parents that are working so hard amidst these trying circumstances."
Tomorrow, 6 April, 18,000 school bags are scheduled to arrive from the UNICEF warehouse in Copenhagen to aid the Back to School campaign. A portion of those supplies are going to be sent to the disaster area the same day.