Japan Earthquake & Tsunami Emergency Relief (148th report)

Emotional support for children: JCU publishes a manual for assisting preschool-age children affected by the disaster
[TOKYO, JAPAN, 19 March 2012]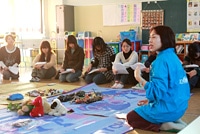 © Japan Committee for UNICEF
A seminar held for teachers at kindergartens in Sendai.
Young children are not capable of immediately expressing their feelings and emotions in words like adults. Rather, children use everyday activities and play to communicate their feelings and experiences. In fact, the Japan Committee for UNICEF (JCU) has received reports that children affected by the Great East Japan Earthquake have tried to recreate their experiences from the earthquake and tsunami through play.
JCU is working in collaboration with the Japan Association for Play Therapy to hold training and seminar sessions for adults that engage in daily interaction with preschool-age children who have suffered from the disaster in Iwate and Miyagi Prefectures. Participants in this training learn about the behavioral traits of children who live through traumatic experiences and are advised on methods of play that provide children with a sense of comfort. This project was launched in March 2011 and has received the participation of 1,652 people as of the end of February 2012.
In March 2012 a manual was published that brings together all of the lessons of the training and seminars, entitled the "Manual on Emotional Support Using Play Therapy for Trauma-Affected Children".
The manual will be used in future seminars in order to promote emotional support for children. The manual will also be distributed to preschools, kindergartens, organizations and local governments where training has already been implemented in order to ensure that it utilized within assistance activities in the affected areas to support children through proven play therapy methods.

Download the manual here (Japanese only) [5MB] »
Inquiries about the manual should be forwarded to the Japan Association for Play Therapy(Japanese only).

Click here for the one-year report (PDF) »