Japan Earthquake & Tsunami Emergency Relief (149th report)

JCU partners with JOCA to help children and their families
[TOKYO, JAPAN, 22 March 2012]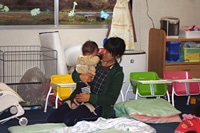 Photo: Japan Oversees Cooperation Association. Staff engaged in nursery care at Otsuchi Preschool.
The Japan Committee for UNICEF (JCU) has assisted the reopening of kindergartens affected by the Great East Japan Earthquake through the provision of supplies and construction of temporary school facilities. There are schools, however, that lack the necessary nursery staff to oversee school operations for the mid- to long-term. This makes it difficult to ensure that a comfortable learning environment is established. Recognizing this problem, JCU joined hands with the Japan Overseas Cooperation Association (JOCA) to launch a project in October 2011 that extends assistance to child-rearing efforts for children affected by the disaster.
JOCA implements assistance from a medium-term perspective by dispatching its disaster relief volunteers—former participants in the Japan Overseas Cooperation Volunteers programme—and domestic cooperation volunteers (long-term) to provide onsite assistance. Once onsite volunteers utilize their respective expertise and past experiences to provide local help. As one of its collaborative programmes, since November 2011 JOCA has dispatched domestic cooperation volunteers (nursery staff) to assist preschools and support child-rearing efforts at Otsuchu Preschool in Otsuchi Town and Yamada Town Community Child-rearing Support Center, both in Iwate Prefecture.
JCU had provided emergency childcare assistance from August 2011 for Otsuchi Preschool by dispatching short-term volunteer nursery staff to the school with the cooperation of Nursery Teachers' Committee, a subsection of the Tokyo Council of Social Welfare. However, there were calls for nursery staff to provide their services on an ongoing basis in order to create a more stable learning environment for the school's children. Two domestic cooperation volunteers from JOCA have thus been dispatched to oversee operations at the school and assist in establishing a comfortable environment for the children.
© Japan Committee for UNICEF
The first "Sukusuku Hiroba" following the assistance centre's reopening (21 December).
Experts are also being dispatched to Yamada Town Community Child-rearing Support Center (joint facility with Orikasa Preschool). While the facility was left undamaged by the tsunami due to its high elevation, the center was forced to shutdown due to a staff shortage resulting from the disaster. There were strong cries from town residents to reopen the center, and that is when we received a request from the Yamada Town government. JCU's collaborative effort with the local Yamada government resulted in the dispatch of JOCA domestic cooperation volunteers. Currently, two volunteers are working onsite at the Community Child-rearing Support Center. The two volunteers are in charge of various events that aim to deepen bonds with the community, including "Waiwai Kids", held every weekday, and a monthly event held for children and their parents, "Sukusuku Hiroba".
JCU's efforts have led to establishing an environment where children can spend the full day playing with their friends and teachers in a safe setting. This contributes to the children's growth and is very important for their families as well. This project is scheduled to continue until the end of March.
Japan Overseas Volunteer Association (JOCA) website

Click here for the one-year report (PDF) »