Japan Earthquake & Tsunami Emergency Relief (153rd report)

Preschool entrance ceremony held at new school building
[RIKUZENTAKATA, IWATE, JAPAN, 4 April 2012]
The Japan Committee for UNICEF (JCU) has received requests from local governments affected by the disaster in Iwate, Miyagi and Fukushima Prefectures, and is providing assistance to preschools and kindergartens in those areas for the construction of temporary facilities and for large-scale restoration work. One such assistance project was the construction of a temporary building for Takekoma Preschool implemented by the Rikuzentakata Nursery Association in Rikuzentakata City, Iwate Prefecture. The building has been completed and on 4 April an entrance ceremony was held at the new school building.
Takekoma Preschool was damaged in the disaster and forced to close for nearly a year. Securing a location to continue nursery classes was crucial to ensuring that children would have a safe place to play and for facilitating a stable life at home. JCU received a request from the Rikuzentakata City Government and various corporations, and the decision was made to provide support for the construction of a temporary building for the school.
On a white snowy day in April, families dressed in formal clothes for the ceremony began to arrive at the new school building, everyone smiling with a rejuvenated sense of energy. There were a total of 37 new students, ranging from the age of one to five. When the Vice-Principal called their name, each replied with a spirited, "Hai!" and lined up in front of the teachers. Some of the children initially appeared nervous to separate from their parents, but this was overshadowed by their excitement about the new school year at their new building, which was set to start the following day.
| | | |
| --- | --- | --- |
| | | |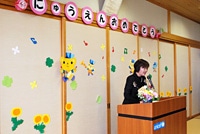 This year's entrance ceremony was held at the Takekoma Community Centre, which is located adjacent to the new school building. The school principal, Ms. Wakae Murakami, delivered a congratulatory speech to the attendees: "I see 37 good boys and girls. Welcome to our preschool. Takekoma Preschool was closed for one year due to damage from the tsunami, but thanks to the warm assistance from the Japan Committee for UNICEF we have been able to once again open our doors. I cannot thank you enough. We have received encouragement and support from a large number of people over the past year. The best way that we can express our gratitude for that kindness is for all of the new students to be energetic and happy during their time here. Takekoma district was left without the smiling faces of children for a year after the disaster, and we have really looked forward to this day for a long time. With everyone's generous support, we will continue to push forward and work hard. Congratulations on becoming new students!" From the principal's speech it was clear how long people had anticipated the reopening of the school, as well as the school's strong commitment to the growth of its students.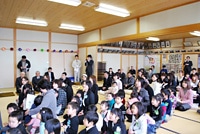 Next, a representative from Rikuzentakata Nursery Association presented a message on behalf of the association's director:
"Congratulations to all of the new students. I was very excited to see all of your smiling faces today, and now it comforts me to see how energetic and full of life you all are. I would like to assure all of the parents and family members present today that you do not have to worry while your children are in our hands. We will take full responsibility over their wellbeing while they are here so that you can fully dedicate yourselves to your work and to reconstruction. These children are the true treasure of Rikuzentakata City, as they are to be the leaders of the city's reconstruction. They are a true treasure that we must protect and raise together. Our staff will work together with Takekoma Preschool's principal and teachers to watch over your children. Thank you for your trust and understanding, and congratulations again on your new school life."
A congratulatory message was also presented on behalf of the Rikuzentakata City Mayor:
"Good morning, everyone. Congratulations on the beginning of a new school year. Starting today you have lots of friends to enjoy spending time with here at your new preschool. Everyday you will play with your teachers and friends—something fun is always waiting for you at preschool. The teachers here are all very kind and really love all of the students. They will sing with you, read you storybooks and play. I am sure that you will very quickly grow to love them back. After our preschool was damaged by the tsunami, our students were forced to commute to Shimoyahagi Preschool and Yokota Preschool; it wasn't easy for you. Today a new school community has been born, and each and every teacher is just as excited as the students. You can count on us. In closing I would like to offer a prayer for the children to grow up healthy, strong and energetic. Thank you all."
After the Mayor's remarks, two staff from JCU, who assisted in the construction of the school's new temporary building, also extended congratulatory remarks to the guests.
After the entrance ceremony, Ms. Chika Kato, a teacher that has been at the school for five years and is to oversee the four and five-year-old class, commented that, "We may have been separated for a year, but today was truly a ceremony full of smiling faces—children happy to be reunited with their classmates again. The new building is still temporary, so we may face a few inconveniences here and there, but I intend to take full advantage of all of the opportunities that this building has blessed us with. I hope to make our school one of non-stop fun and a place that the children love coming to."
Following the event everyone walked together to visit the new school building. The children and parents were overcome with smiles and excitement upon seeing the teachers' handmade crafts decorating the walls, a banner with the words "Welcome to Preschool!", and the bright wooden rooms.
The mother of one boy, who had been playful and excited since the beginning of the ceremony, said, "I am so happy that he is able to come to school with all of his friends again. We have really been waiting for this day." Takekoma Preschool's doors are once again open to children, providing a place where Rikuzentakata's children can enjoy playing freely with other children in a safe school setting.
The Japan Committee for UNICEF (JCU) will continue to assist the construction of temporary facilities and major restorations for preschools and kindergartens damaged by the earthquake and tsunami disaster.
All photo credits: © Japan Committee for UNICEF

Click here for the one-year report (PDF) »