Japan Earthquake & Tsunami Emergency Relief (154th report)

Assistance for school lunches in Ishinomaki
[ISHINOMAKI CITY, MIYAGI, JAPAN, 9 April 2012]
It was 12:10 on Monday, 9 April, and staff had just begun preparing school lunches in the sixth grade classroom of Nakazato Primary School in Ishinomaki City. When the student who was the lunch helper for that day opened the container of food, she said, "Hey, there are two types of dishes here!" It had taken a full year, but the regular lunch menu had finally returned to Ishinomaki schools.
The coastal region of Ishinomaki suffered tremendous damage as a result of the Great East Japan Earthquake. Before the disaster six separate school lunch centres had been responsible for preparing the school lunches for the more than 60 primary and junior high schools located in the city; however, the tsunami destroyed and washed away most of the facilities of two of the city's lunch centres located on the coast, Watanoha Lunch Centre and Minato Manabu Lunch Centre. Moreover, another one of the city's other lunch centres also received serious damage in the disaster, rendering it useless and the city without the capacity to provide school lunches.
School lunches were restarted on 25 April 2011 in Miyagi Prefecture, but acquiring ingredients and preparing quality dishes still proved to be a challenge. As such, most schools continued to serve bread and milk only. In Ishinomaki City, starting on 1 June 2011 the three undamaged school lunch centres were able to restart their services in full, providing school lunches of heated pre-prepared dishes. Later, one of the damaged centres was refurbished and was able to provide pre-prepared foods and their usual menu of dishes. Nevertheless, until September 2011 schools had to make due with only one side dish and rice, and finally two side dishes and rice from October 2011.
In order to restore lunches to their usual menu of rice, soup and two side dishes, the city had to do much more than simply secure the ingredients and cooking facilities; it was also necessary to procure the proper dishware, dishwashers and storage facilities. In 2011 a system was implemented where by the students would receive dishes from the city government that they would take home every day to wash and reuse. Nevertheless, the city was unable to completely restore the school lunch system during 2011.
In efforts to remedy this situation the Japan Committee for UNICEF (JCU) provided Ishinomaki City with enough school lunch dishes for all of the city's 15,000 primary and junior high school students, as well as dishwashers and sterile storage space for the three school lunch centres. Meanwhile, operations started at a lunch centre given to Ishinomaki by one of its neighbouring cities, Higashi Matsushima City, making it possible to provide all of the city's students with the same school lunches as before the disaster from the new school year starting on 9 April.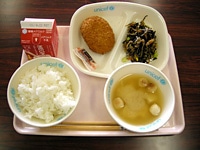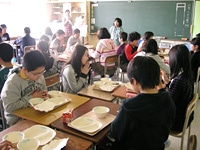 On Monday, 9 April, Nakazato Primary School held a ceremony to mark the beginning of the 2012 school year. It was also the first day to provide school lunches. Bowls and plates with the UNICEF logo lined the dish carts, and school staff filled the new dishes with delicious pre-prepared foods. The menu on the first day included rice, croquettes, stewed seaweed, tofu miso soup and milk. Everyone put their hands together and excitedly said, "Itadakimasu!" (a traditional Japanese phrase said to give thanks before eating). The children enjoyed talking with their new classmates as they ate, and everyone's plate was clean in just 20 minutes. One child smiled and said, "Lunch is more filling now. It was delicious!"
Mr. Katsuji Sato, from the School Management Section of the Ishinomaki City Board of Education, and head dietician Ms. Yuka Kimura visited on the day of the ceremony to observe the distribution of school lunches. Mr. Sato said, "We still have work to do, as all school lunch centres will have to operate at a higher capacity than usual, but at least now we are operational. We are so thankful for the Japan Committee for UNICEF assisting with the provision of dishes and sanitation facilities." Ms. Kimura added, "We had trouble coming up with a workable menu until now because of the limited type of dishes available." Ms. Kimura talked with the children as they ate, asking them if they liked their new lunches and encouraging them to eat as much as they could.
School lunches are an important opportunity for children to eat a well-balanced and nutritious meal, learn proper dining manners, acquire knowledge about health, and communicate freely with their teachers and friends. The Japan Committee for UNICEF will continue to support the healthy growth of children impacted by the Great East Japan Earthquake.
All photo credits: © Japan Committee for UNICEF

Click here for the one-year report (PDF) »