Japan Earthquake & Tsunami Emergency Relief (157th report)

Ceremony marks the completion of Asahi Kindergarten's new building structure
[MIYAGI, JAPAN, 25 May 2012]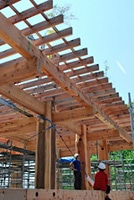 Asahi Kindergarten's new building was constructed with giant 200-year-old cedar trees.
The Japan Committee for UNICEF (JCU) provides assistance for the new construction and large-scale restorations of preschools, kindergartens and children centres in response to requests received from affected municipal governments in Iwate, Miyagi and Fukushima Prefectures.
On 20 May, a ceremony was held in Minamisanriku Town, Miyagi Prefecture to commemorate the completion of the structure for a new school building for Asahi Kindergarten, one of the recipients of JCU assistance. Asahi Kindergarten lost its school building in the tsunami. The school has provided temporary classes from 3 June 2011 by borrowing a classroom at Shizugawa primary School, and from 3 October using a public hall located in Ofuna district.
The new building is being built in an upland area owned by the town, and JCU has pushed forward construction efforts with the objective of completion in late July 2012. The building's construction is being funded by book royalties donated by Makoto Hasebe, a soccer player in Fusball-Bundesliga, and funds earned through charity events.
The basic foundation of the building has now been completed, including the columns, framework and beams, and a ceremony was held to celebrate the occasion. Nearly 100 people were in attendance on the sunny day of the ceremony, including related staff from the municipal government and school, children from the school and their parents, and even individuals from the community. The town's mayor, Mr. Jin Sato, was also in attendance. After the ceremony, JCU followed tradition by holding a mochimaki event, where mochi rice cakes were thrown down from the rooftop for the children to catch.
World-famous architect Takaharu Tezuka, who oversaw the architecture for Asahi Kindergarten's new building, proposed using part of a 200-year-old cedar tree that, before being damaged in the disaster, stood along the approach to Minamisanriku's Daioji Temple. Mr. Tezukza developed a building design that resembled the warm, wooden structure of Kiyomizu Temple in Kyoto. The key to achieving this was utilizing the existing shape of the upland area to the greatest extent possible. At the ceremony, Mr. Tezuka noted, "I am very happy to be here today. In this building lives the reincarnation of our ancestors, those who hundreds of years ago planted the trees used to build the building before you today." The cedars of Minamisanriku exude the deep-rooted power of its lands, and now so will the new Asahi Kindergarten building.
Architect Takaharu Tezuka, who designed the new school building.
A

mochimaki

event held after the ceremony.
All photo credits: © Japan Committee for UNICEF

Click here for the one-year report (PDF) »