Japan Earthquake & Tsunami Emergency Relief (164th report)

CAP specialist training seminar wraps up in Fukushima City
[FUKUSHIMA, JAPAN, 19 October 2012]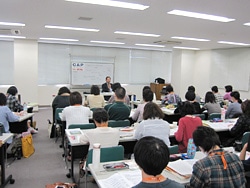 © Japan Committee for UNICEF
Training seminars for CAP specialists have wrapped up in Fukushima City. These seminars were held as part of the collaborative programme between the Japan Committee for UNICEF (JCU) and J-CAPTA. Last autumn this seminar was held in Morioka City, Iwate Prefecture and Sendai City, Miyagi Prefecture. This year the basic skills session was held from 14-16 September and the practical skills session between 13-14 October. A total of 45 trainees participated in the seminars over the five-day period.
In the basic skills session, trainees learned the theory and philosophy of violence-prevention education, gained knowledge about child abuse and were trained how to implement workshops for children and adults. In the practical skills session, roleplaying was used to act out an actual child-adult workshop, and a lecture was held by the Fukushima Central Youth Consultation Centre. Television media covered the basic skills session and broadcasted the training session on national television, making for an energetic and engaging day of learning.
The sessions received the participation of a diverse spectrum of stakeholders, ranging from government staff, medical personnel including health nurses and midwives, nursery teachers, child guidance counselors, teachers, persons related to child-rearing assistance and NPOs, and even students. After the training sessions, one participant told JCU, "The trainings were tremendously informational and inspiring. I intend to utilize what I have learned here while continuing to acquire more knowledge so that I can be of better help to those in need." Another participant voiced, "I was also a victim of bullying and physical abuse as a child, but this training really opened my eyes. I plan to teach these lessons to my own children."
Also, members of CAP Fukushima, which supported the implementation of the training seminars, noted that, "The CAP network expanded as a result of the wide participation. Moving forward the truth value of CAP is going to be tested in Fukushima. This is only the beginning."
A follow-up training seminar has already been scheduled for 3 March 2013. The participants will join CAP groups in Fukushima (Fukushima, Koriyama, Iwaki and Aizu), Miyagi and Iwate Prefectures, where they will assist the implementation of CAP workshops in the affected areas.

Click here for the one-year report (PDF) »