Japan Earthquake & Tsunami Emergency Relief (165th report)

Ishinomaki City: Experience-based urban development to teach children about society
[MIYAGI, JAPAN, 14 October 2012]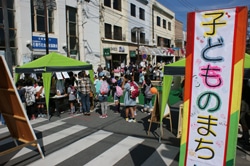 Itopia-dori St. overflowing with children.
From Saturday, 13 October to Sunday, 14 October, Itopia-dori St. in Ishinomaki City overflowed with the smiling faces of more than 2,000 children.
Over this two-day period an experience-based urban development learning programme called "Ishinomaki: A Children's Town" was held where children were able to work, earn money, play and shop at the city's public institutions, government offices and even local stores. The children enjoyed an all-inclusive experience, as they were issued passports when entering the make believe "country" and searched for jobs from "real" job listings. After finishing a job they received "makis", the currency of the Children's Town, which they could save to use when shopping for paying for various services.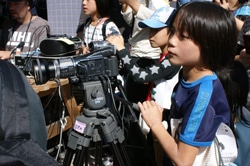 A child experiences the job of a cameraperson using real equipment.
Minami Kamata (fourth grade) joined the event together with several friends. She tried her hand at being a manga artist, cameraperson and a singer. She energetically told Japan Committee for UNICEF staff, "Next I want to try being a stylist!" She added, "I used the makis I earned to buy a notepad and some other things. It feels good to earn money myself!" Emi Aihara (fourth grade) loves animals. She tried working as a clerk at a pet café. After a hard session's work, she commented "It was fun feeding the dogs and being able to help the animals."
The Japan Committee for UNICEF (JCU) provides technical assistance and conducts advocacy in collaboration with experts in order to promote children participation in the reconstruction process in disaster areas. JCU hopes to ensure "child-friendly reconstruction", a form of reconstruction that takes into account the individual voices of children.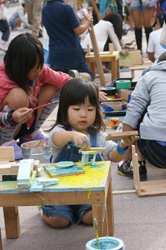 Even smaller children participated.
A town that is friendly to children—the most vulnerable in society—is a town that is friendly and comfortable for everyone. The aim of this urban development process is to allow children to confront the disaster and shed light on the issues at hand, while exchanging views with them and deepening their interest in the future of their city.
In order to more systematically promote the participation of children in this type of reconstruction, JCU has partnered up with Professor Shinya Sato, an active practitioner in the field of residential and urban development studies from Yamagata University's Faculty of Education, Art and Science, as well as the Takenaka Corporation, which won the grand prize for proposing "urban reconstruction together with children" as a plan theme in the Association for Children's Environment's competition "The International Competition for the Disaster Recovery Plan after the Great East Japan Earthquake".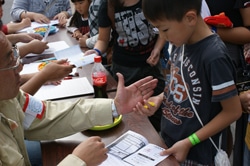 A child receiving "makis" after providing the bank proof of the work that he had completed.
Based on the Takenaka Corporation's proposal, a survey was implemented by the local government and concrete efforts were implemented to provide children a fun learning opportunity and the chance to take a leading role in the creation of their hometown. The result was the Ishinoamki: A Children's Town event. A large number of groups actively providing assistance in Ishinomaki City participated in the operations of the event.
The event taught children about the social systems of the city and allowed them the chance to experience the joy of urban development by undertaking a proactive role themselves. It is anticipated that by partnering with the local business district, the children will learn about the culture, industry and traditions of their city and form networks with new friends.
The event also served as a venue for children to reunite after their separation following the disaster.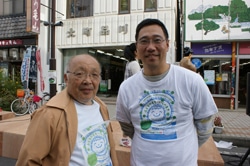 Yuya Toda (left), Chairperson of the Ishinomaki: A Children's Town Executive Committee, and Yamagata University Professor Shinya Sato (right).
Professor Sato commented that, "Nearly 20 organizations involved in providing children opportunities to play participated in the event, enabling them to learn about other organizations' respective methods." Mr. Yuya Toda, Chairperson of the Ishinomaki: A Children's Town Executive Committee and who oversaw the event for the two days, noted, "I didn't think that there were this many children in Ishinomaki. This event taught children about the systems in place in our society. Ishinomaki and its shopping district would naturally grow into a livelier place if events like this—that attract lots of children and parents—were held more often."
All photo credits: © Japan Committee for UNICEF

Click here for the one-year report (PDF) »