Japan Earthquake & Tsunami Emergency Relief (166th report)

This year the Big Prayer Trees are back! Ginza, Yurakucho, and 11 locations throughout Tohoku!
[TOKYO, JAPAN, 2 November 2012]
At the workshop, volunteer "UNICEF Santas" assisted the children.
The UNICEF Prayer Tree Project is a cross-industry endeavour that brings together designers and arts university students specializing in various fields with corporations and universities in order to ensure that children affected by the Great East Japan Earthquake get to enjoy a happy and heart-warming holiday season. Last year, more than 100 trees were delivered to children in the affected areas. Christmas events were also held at 15 individual locations, offering workshops where children enjoyed creating their own ornaments.
The Japan Committee for UNICEF (JCU) has decided to continue the UNICEF Prayer Tree Project this year as well. With the aim to restore smiles to the faces of the children in the disaster areas—who still struggle along the long path to reconstruction—JCU has received the support of 1,200 designers in creating ornaments for the project, each eye-catching ornament presenting the unique touch of its respective designer.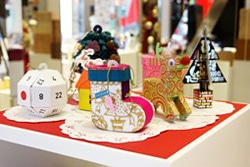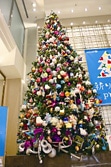 A display from last year.
"Big Prayer Trees" decorated with these ornaments will be on display starting 3 November at Yurakucho LOFT, followed by four more locations in Tokyo: Ginza Mitsukoshi, Matsuya Ginza, Shiseido The Ginza and Lumine Yurakucho. They will also be on display at six locations in the Tohoku region, making for a total of 11 locations (please see below for the display schedule). Each venue will offer an entirely different experience. JCU encourages you to visit the various venues and spread the love of the holiday season with the children affected by the Great East Japan Earthquake.
*Just as in 2011, in December ornament workshops will be held for children affected by the disaster. We are currently seeking designers to participate in these workshops. Please visit the Prayer Tree website.
Prayer Tree Display Schedule
Tokyo
| | Location | Period |
| --- | --- | --- |
| Yurakucho LOFT | 1F rear right, near the stationery section | 3 November (Sat/holiday) – 25 December (Tue) |
| Ginza Mitsukoshi | 1F west-side entrance | 7 November (Wed) – 25 December (Tue) |
| Matsuya Ginza | Special event space in the centre of 1F | 7 November (Wed) – 25 December (Tue) |
| Lumine Yurakucho | 1F/8F restaurant floor | 12 November (Mon) – 25 December (Tue) |
| Shiseido The Ginza | 1F beauty goods sales floor | 21 November (Wed) – 25 December (Tue) |
Tohoku
| | Location | Period |
| --- | --- | --- |
| Kesennuma Food Stall Village | Kizuna Hiroba | 2 December (Sun) – 25 December (Tue) |
| Sendai Mitsukoshi | Jozenji Dori Building, 1F, Hikari no Hiroba | 29 November (Thu) – 25 December (Tue) |
| Sendai LOFT | 2F east side entrance | 21 November (Wed) – 25 December (Tue) |
| Semdao Nagamachi LOFT | Next to the 2F up escalator | 17 November (Sat) – 25 December (Tue) |
| Morioka LOFT | Next to the 6F up escalator | 20 November (Tue) – 25 December (Tue) |
| Akita LOFT | Next to the 2F escalator | 21 November (Wed) – 25 December (Tue) |
The Prayer Tree Project (Japanese only)


All photo credits: © Japan Committee for UNICEF

Click here for the one-year report (PDF) »