Japan Earthquake & Tsunami Emergency Relief (171st report)

Natori City Mayor presents JCU with plaque of appreciation
[TOKYO, JAPAN, 20 November 2012]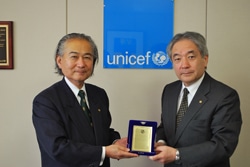 A plaque of appreciation presented to JCU at the UNICEF House (Natori City Mayor Sasaki (left) and Japan Committee for UNICEF Executive Director Hayami (right)).
On 20 November, Natori City (Miyagi Prefecture) Mayor Iso Sasaki, Natori Library Director Mieko Sugai and librarian Etsuko Shibasaki visited the UNICEF House to present the Japan Committee for UNICEF (JCU) with a plaque of appreciation for its contribution to the creation of the Donguri Children's Library.
An opening ceremony was held for Natori Library in January 2012, where a seemingly never-ending line of children stood outside excitedly waiting for the library doors to open. After presenting the plaque, Natori City Mayor Sasaki expressed words of gratitude and spoke about how the library looks today in comparison to the time of the earthquake. The mayor spoke about the damage and trying circumstances that faced Natori City during the disaster, such the widespread power outages, difficulty in gathering accurate information, and the mayor's own struggle to secure gasoline and kerosene for the city.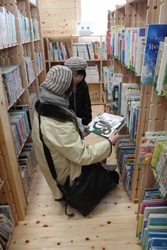 One year and eight months have now passed since the disaster, and Mayor Sasaki sees the feelings of disaster victims as the number-one driver behind future recovery. JCU Executive Director Hayami stressed the importance of listening closely to what the children are saying. He took the opportunity to introduce a case study for urban development aimed at reconstruction in Soma City in order to emphasize the importance of the participation of children in the reconstruction process.
The Japan Committee for UNICEF looks forward to the Natori Library becoming a place that, through the participation of children, contributes to the reconstruction of affected areas.
All photo credits: © Japan Committee for UNICEF

Click here for the one-year report (PDF) »