Japan Earthquake & Tsunami Emergency Relief (172nd report)

Child protection: Training on detection and response to household risk
[IWATE, JAPAN, 16 November 2012]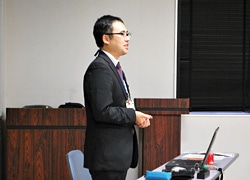 Mr. Maisawa, the lecturer for the trainings, is a child welfare officer in charge of the Kamaishi and Otsuchi districts at the Iwate Prefecture Miyako Child Consultation Centre.
Domestic risk is created by tense household relations resulting from various stresses within the family and local community. Approaching families with tense relations always poses difficulty for support staff and aid workers. It is not rare that a family denies the need for assistance or flat out refuses it. What can support staff do in times like this? This question was a major theme of training sessions held on 15 and 16 November at Kamaishi City and Otsuchi Town for support staff of families with children orphaned as a result of the disaster.
The training was entitled "Current households at risk and how to respond". The lecturer was Mr. Maisawa, a child welfare officer in charge of Kamaishi and Otsuchi districts at the Iwate Prefecture Miyako Child Consultation Centre. Mr. Maisawa says, "The problems that face us today are not new; they have simply grown more prominent as a result of families and communities growing less able to address them after the earthquake and tsunami."
In order to accurately understand the situation in which families are currently placed, it is necessary for aid workers to collect objective data, judge potential risks and envision a response to the anticipated problems. Mr. Maisawa adds, "Unless this happens, aid workers' household visits will end in vein and they will be unable to achieve anything." Moreover, approaches aimed at solving problems as they arise far too often end with rhetoric alone. It is necessary to consider in concrete terms methods for response, frequency of involvement and modes of observation.
Group exercises were held where household scenarios were considered based on fragmented fictitious data and countermeasures developed. The exercises uncovered many valuable views.
A total of 29 people participated in the training in Kamaishi City. In Otsuchi Town there were 19 participants. The training attracted a diverse group of practitioners involved in onsite work with disaster victims and children, including municipal government staff from Kamaishi City Children's Section and Otsuchi Town, nursery centre staff, primary school teachers, health nurses, life support consultants, and various civil and child committee members. The countermeasures proposed by participants envisaged real-life circumstances, and, based on fragmented data from imaginary households such as those with a single father, group exercises were conducted to discuss potential existing risks.
The training underscored the necessity for services that reached out to provide help without waiting for individual families to file applications, as well as the importance for those intimately involved in the lives of locals requiring assistance to provide assistance in a collaborative fashion. Meanwhile, however, certain organizations—such as child consultation centres—are unable to respond to all household needs. In order to promote a more concerted form of assistance, participants were taught about the importance of aid workers living in harmony alongside households in need.
One livelihood support consultant who participated in this training and visited the temporary housing noted, "There are a large number of children living in the temporary housing that I am in charge of who have lost their families. I kept this in mind during the training exercises. The group work was particularly informative."
Training also focused on the definition and recent trends of child abuse—another household risk—and provided information on the CAP (Child Abuse Prevention) Programme to illustrate the preventive perspective. The training pointed out the importance of people involved in household aid, such as training participants, identifying risk factors behind the occurrence of abuse and working to reduce those risks. Participants were instructed to make a list of the concrete signs of abuse, and if any of the signs were detected, to promptly report the incident to their municipal child welfare office, civil and child committee, regional development bureau or child consultation centre.
Mr. Maisawa wrapped up the training, noting: "Intervention by a special agency, such as a child consultation centre, does not necessarily mean that a household child abuse problem has been resolved. Continued involvement by those close to the family, nursery centres and schools will contribute to preventing reoccurrence. This is also important in forming collaborative networks within the community."
Mr. Yahata, head of the Regional Coastline Development Bureau's Welfare Section (Health and Welfare Department), shared his thoughts about this series of training sessions held for aid workers: "Since the disaster, a diversity of household problems has begun to surface. Many households lack the means to ensure their livelihood, which can lead to various new problems if the situation becomes protracted. It is important that local governments cooperate with various community networks and households in the implementation of assistance. That is why these trainings are so very important."
Mr. Sasaki, Assistant Director of Kamaishi City's Children's Section, expressed his anticipation for the results of the training, saying, "As time passes new problems are arising. I hope that everyone can put to action what they learned today in the promotion of assistance and aid activities." From the planning stages to implementation, the Japan Committee for UNICEF cohosted this training series with the Regional Coastline Development Bureau. JCU will continue to support the efforts of local governments in order to better empower local societies to resolve the problems they face independently.
All photo credits: © Japan Committee for UNICEF

Click here for the one-year report (PDF) »