Japan Earthquake & Tsunami Emergency Relief (175th report)

Psychosocial assistance: Supporting the construction of Kesennuma Child Psychosocial Care Center consultation rooms
[IWATE, JAPAN, 10 December 2012]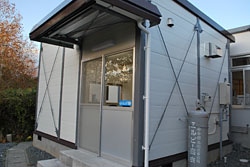 A consultation rooms located adjacent to the Kesennuma Child Psychosocial Care Center.
Mr. Kariya, director of the Taiyo Children and Family Support Centre, which is built adjacent to the Taiyo School in Ofunato City, comments that, "We have continued to implement psychosocial care activities since the Great East Japan Earthquake, but we are approaching our maximum capacity in terms of our ability to respond to consultations and assistance. Nevertheless, it is our mission to improve the welfare of children and our duty to respond to their needs. The temporary consultation rooms are a long-awaited development that will contribute to carrying out that mission." Director Kariya expressed his gratitude for the assistance of the Japan Committee for UNICEF (JCU) and underscored the significance of the completion of the temporary consultation rooms.
In addition to its normal consultation centre operations, the Taiyo Children and Family Support Centre has provided support for affected children and households in Ofunato and Rikuzentakata Cities since the Great East Japan Earthquake through such activities as emergency shelter visits. JCU has provided support in order to reduce the burden on staff and enrich community activities, as the staff of the Taiyo and School Taiyo Children and Family Support Centre were also affected by the disaster and as the psychosocial assistance needs of children have greatly increased. Last year, JCU partnered with the Japan National Council of Child Family Support Center to dispatch nine psychologists from Child and Family Support Centers across Japan to support the activities of the Taiyo Children and Family Support Centre.
In Iwate Prefecture, the Iwate Prefecture Children and Families Section established child psychosocial assistance centres in Miyako City, Kamaishi City and Ofunato City following the Great East Japan Earthquake, and is currently dispatching child psychiatrists to these areas from outside of the prefecture. In Ofunato City, the Kesennuma Child Psychosocial Care Center was set up at the Taiyo Children and Family Support Centre, to which today, two years after the disaster, a pediatrician from Morioka City and a child psychiatrist from Tokyo are dispatched on a weekly and monthly basis, respectively.
While the number of consultation requests is increasing, the Taiyo Children and Family Support Centre previously only had one consultation room, making the development of additional consultation rooms to secure privacy for children and their families an urgent issue. That is when JCU was contacted for its help. With JCU's assistance, temporary consultation rooms were opened in October 2012.
Consultation rooms used on a region-wide and multi-purpose basis
The new consultation rooms ensure the privacy of children and families.
The new temporary consultation rooms facilitate consultations with dispatched pediatricians and child psychiatrists, as well as response to simultaneous visits by multiple children and families. Moreover, as visits to the Kesennuma Child Psychosocial Care Center count towards class attendance, the centre is also used as a place for children who do not attend school.
Centre Director Kariya spoke about his ambitions moving forward: "It is vital that we enhance family support for households with children staying at home, including for foster parents, in a comprehensive manner. I intend to further strengthen the functions of the centre while working together with the Taiyo School in order to offer a greater level of comprehensive consultation support."
At present, most consultations are for families residing in Rikuzentakata City, where damage was particularly severe; however, the construction of new independent consultation rooms has contributed to creating a structure capable of more actively responding to consultation requests from Ofunato City and Sumida Town as well. Director Kariya says, "I will continue to contribute to creating a community where families with children in Kesennuma are even happier than before the disaster." The Japan Committee for UNICEF will continue to provide support so that the Taiyo Children and Family Support Centre can expand its assistance efforts to children and families in the region.
All photo credits: © Japan Committee for UNICEF

Click here for the one-year report (PDF) »