Japan Earthquake & Tsunami Emergency Relief (188th report)

After-school programme assistance to continue in Minamisanriku
[MINAMISANRIKU, JAPAN, 15 April 2013]
The Japan Committee for UNICEF (JCU) provided assistance for a children's after-school programme at Tokura Primary School and Shizugawa Primary School in Minamisanriku Town. The programme was implemented from April 2012 until the end of March 2013 upon the request of the Minamisanriku Town Board of Education and through the support of NPO Kid's Door.
Nearly half of Minamisanriku's inhabitants evacuated—and continue to live in refuge—after the major tsunami accompanying the Great East Japan Earthquake. The tsunami rendered the Tokura Primary School building unusable. Tokura Primary School was able to reopen classes by borrowing facilities at a primary school in Tome City, and a year later, in April 2012, the children again moved to a new first-floor space at Shizugawa Primary School. Many children commute to school on a school bus from their temporary homes in Tome City.
The school bus that takes students home departs school at 16:00. Students in younger grades finish class at 14:00 and enjoy playing in the schoolyard and gymnasium and studying with caretakers employed by Kid's Door until their school bus departs.
Parents of students at Tokura Primary School, and other community members, have volunteered as caretakers for the purposes of this programme. With the cooperation of the Foundation for Promoting Sound Growth of Children, a member alongside JCU in the council for the Central Child Support Center of the Great East Japan Earthquake, these caretakers receive group play training. One caretaker told JCU, "The presence of caretakers allowed more children to be able to play together, both those who require more adult attention and those who are more independent." Another added, "You could tell the children grew with each day—eventually they were developing their own games to play together." Another caretaker was more critical, noting, "This experience has shown me that there are children that need psychosocial assistance, not only a play partner." Several other participants voiced that, "The children looked forward to being with Kid's Door, so it was a fulfilling experience," "Playing with the children was energy-restoring and a lot of fun," and "I hope to continue to provide assistance aimed at ensuring children can lead happy lives."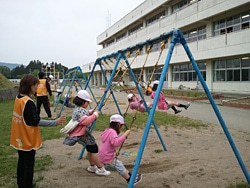 The number of safe places for children to play dramatically diminished in the Tohoku region following the disaster. Children living in temporary housing are unable to play actively or with their friends after returning home, making after-school an important time for play. This project has secured much-needed time for children to play and time for teachers to rest after a full day of serious teaching. Kid's Door Programme Coordinator Mr. Katakai said, "Amidst a situation where temporary housing construction has nearly halved the amount of schoolyard space, it was always a challenge coming up with a way to create an environment where children could safely and peacefully play after school. The caretakers are locals, so they know the children well. It is their selfless efforts, caring for the children and working together with the teachers, that have made this project a success."
From April, the After-school Children's Learning Centre programme (Miyagi Prefecture Cooperative Education Platform)—which has been implemented by MEXT as a disaster assistance project—has been reassigned from the Miyagi Prefecture Board of Education to the Minamisanriku Town Board of Education. The after-school caretaker project will be continued under the guidance of local government staff. Kid's Door workers will also continue teaching assistance at Tokura Junior High School and other locations in Minamisanriku Town.
All photo credits: © NPO Kid's Door

Click here for the two-year report [7.2MB] »