Japan Earthquake & Tsunami Emergency Relief (194th report)

The 8th Discussion on Great East Japan Earthquake Child Assistance
[TOKYO, JAPAN, 30 May 2013]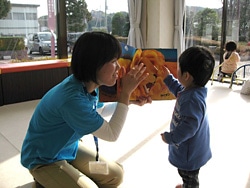 © The Japan Committee for UNICEF
On Thursday, 30 May 2013 at the Japanese House of Councilors Building, the 8th Discussion on Great East Japan Earthquake Child Assistance was held. This discussion is hosted by the Great East Japan Earthquake Child Assistance Network, of which the Japan Committee for UNICEF (JCU) is a directing member. A wide range of organizations contribute to providing assistance for children in disaster areas—including government, NPOs and NGOs, experts and volunteers—and the scope of reconstruction activities taking place is equally as diverse. This Discussion was first held on 29 May 2011 with the objective of promoting effective partnering among parties involved in child assistance, and particularly bridging the divide between the public and private sectors. Over the past two years the Discussion has been held a total of eight times.
Playtime for children and safe places for families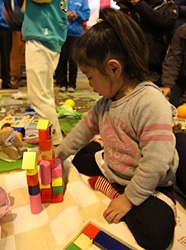 © The Japan Committee for UNICEF/2011/K.Goto
The theme for the eighth Discussion was "Supporting Opportunities to Play and Safe Places for Families". To a child, to play is to live. But the children of Tohoku lost their places to play to the earthquake and tsunami, and today they are forced to play around temporary housing units and are restricted due to radiation. It is no secret that child-friendly spaces are extremely limited. Moreover, most facilities devoted to supporting childrearing and healthy child development were damaged in the disaster, and in some cases this left families without a place to go. In response to this situation, parties involved in providing assistance for children—including Diet members, central Government officials (MEXT, MHLW and the Reconstruction Agency), local government officials, prefectural Diet members, NPO and NGO staff and specialists—came together for the 8th Discussion on Great East Japan Earthquake Child Assistance. The Discussion included an activity briefing by NPOs, NGOs and companies. These organizations work daily to create opportunities for children to play and secure safe places for families. Local government officials also reported on the current situation at the affected areas.
The meaning of playtime for children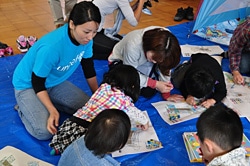 © The Japan Committee for UNICEF
From JCU, psychosocial care advisor and clinical psychologist Ryoko Honda delivered a briefing about continued assistance focused on play. She opened her briefing by explaining the impact of trauma suffered from a disaster on the brain of a child. Ms. Honda went on to explain the importance of utilizing as many methods as possible to support children's ability to process their experience following a disaster as quickly as possible. She explained the therapeutic effects of playtime, as it is the most natural and understandable way for children to express their feelings, allowing them to process emotions relating to their experience. She also underscored the need for people in all sectors to understand the importance and therapeutic effects of playtime on children. During her programme, she had the participants—all adults—take part in a simple exercise to relax their bodies and experience how playtime can be a soothing tool (by tightening and then relaxing their muscles). Sensing the effectiveness of the exercise for relieving stress and tension, the room resonated with the sighs and smiles of the pleasantly surprised participants.
Taking care to play
The right to play is so basic it is even cited in the Convention on the Rights of the Child (Article 31), a convention that sets forth rights held by all children in the world. For a child, playing is almost as natural as breathing. It is possible to restore a sense of connectedness, pleasure and comfort in children through appropriate play with a responsible adult. Moving forward it is important to spread awareness among as many adults as possible who interact with children (caretakers, nursery staff, kindergarten teachers, school teachers, childrearing assistance providers and government staff) about methods for affectionately playing with children during times of disaster. It is also important to spread awareness about effective methods for family playtime and group play techniques following a disaster. These are vital elements to increasing the number of adults who can become a therapeutic resource for children. There are two necessary conditions to achieving this: 1) giving a voice to children by promoting their participation as much as possible when creating new play areas; and 2) urging the participation of local adults from the planning stage when creating new play areas to ensure projects are sustainable.
The Japan Committee for UNICEF has continued to assist children in the Tohoku region since the Great East Japan Earthquake of March 2011. JCU has provided assistance for play and securing safe spaces by tailoring support to the situation on the ground, including establishing Child-Friendly Spaces, UNICEF Children's Bus fieldtrips, UNICEF Children's Mini Libraries and other projects. The Japan Committee for UNICEF will continue to work together with our many partners to provide assistance to the Tohoku region.
Click here to read about 2013 assistance in the area of psychosocial care (Japanese only)

Click here for the two-year report [7.2MB] »