Japan Earthquake & Tsunami Emergency Relief (197th report)

CAP training workshops for Iwate instructors and specialists
[TOKYO, JAPAN, 27 June 2013]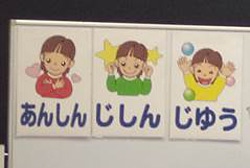 © Japan Committee for UNICEF/2013
Three rights of the child: safety, self-confidence, and freedom. The training aims to boost awareness of combatting violence in order to protect these rights.
The Japan Committee for UNICEF (JCU) has provided seamless assistance to the Tohoku region since the Great East Japan Earthquake of 11 March 2011. A major pillar of ongoing JCU assistance has been child protection. Last year, JCU implemented a training series for a wide range of individuals involved in child assistance in the field of household risk and child protection. This year, JCU continues to hold professional training workshops at various locations.
JCU has partnered with J-CAPTA (East Japan Training Centre) for the past three years in implementing this program with the objective of preventing violence towards children. Child Assault Prevention (CAP) workshops have been upgraded to specialized training workshops targeting after-school care specialists and instructors at children's centres. Efforts are also being made to incorporate the CAP training workshops into existing workshops attended by area specialists.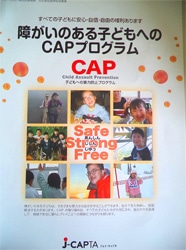 © Japan Committee for UNICEF/2013
"CAP Programme for Physically-Challenged Children", recently developed by J-CAPTA. Issues relating to physically-challenged children were raised in additional the normal programme at Ofunato and Kamaishi workshops.
Instructors from Ofunato and Rikuzentakata Cities joined the 28 May workshop held in Ofunato City, Iwate Prefecture. Here, a CAP workshop was also implemented as part of the Child Instructor Training Workshop held with the support of Save the Children Japan. Also, at the workshop held at Kamaishi City the following day, 29 May, instructors from Otsuchi Town joined personnel from the Otsuchi Town Children Centre and Otsuchi Town Hall. Plans are now in place to hold workshops at Yamada Town on 31 May and Rikuzentakata City on 16 June. A total of 88 individuals participated in the four days of training workshops (81 child instructors and 7 municipal government staff).
Protecting physically-challenged children
At the workshops in Ofunato and Kamaishi, J-CAPTA Chief Director Satomi Kimura explained what specialists can do to protect physically-challenged children from violence by using the CAP Programe for Physically-Challenged Children, a programme recently developed by J-CAPTA. She also conducted a role-playing exercise where participants learned about bullying problems taking place at schools and introduced basic knowledge about abuse and domestic violence. The role-playing workshop was supported by participants in the January 2013 CAP Specialist Training held in Yamada Town, who, after becoming specialists, launched the CAP Ria Preparatory Meeting.
Drawing from her many years of experience working with physically-challenged children, Ms. Kimura discussed how to work with the physically-challenged, answering questions about different kinds of disabilities and why physically-challenged children are more susceptible to violence. She also introduced CAP programs tailored to physically-challenged children. During her two-hour lecture she made time for discussing specific cases, quickly winning the respect of the participating instructors. Ms. Kimura and participants even found themselves passionately continuing the discussion during breaks between sessions.
Ensuring human rights for all
© Japan Committee for UNICEF/2013
A total of 88 specialists participated in workshops at Ofunato, Kamaishi, and Yamada Towns between 28 May and 16 June.
Through this workshop, specialists who already possessed a wide range of knowledge and experience were able to gain new skills. One workshop participant told JCU, "It was great to learn specific information." Another added, "The workshop made me understand the importance of respecting the rights of each individual person." Another said, "I hope to continue working with children, respecting their sense of comfort, confidence and freedom. This workshop helped me re-acknowledge the importance of listening to what children have to say."
Participants were generous with praise following the workshops: "I want my own children to participate in the CAP programme. I hope that the programme is implemented in local primary and junior high schools. This information is not only useful for instructors, but is something I hope parents and local residents learn as well."

Click here for the two-year report [7.2MB] »