Japan Earthquake & Tsunami Emergency Relief (200th report)

"UNITED FOR UNICEF": Manchester United players meet Fukushima children
[22 July 2013, YOKOHAMA, JAPAN]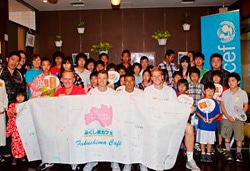 © Japan Committee for UNICEF/2013/M.Miura
The players and children exchange messages of support. The children present Manchester United players with a banner thanking them and wishing them a successful season, along with a traditional Fukushima doll donning a Manchester United uniform.
Under the slogan "United for UNICEF", the English Premier League's Manchester United has for years assisted children across the world through its partnership with UNICEF. On a visit to Japan from 21 July for a pre-season match, the team has made advocacy calls for assistance for children both on and off the field. The team also conducted similar efforts in 2005 and 2007.
UNICEF's first partner soccer team
In 1999, Manchester United became UNICEF's first partner soccer team. At 14 years, this partnership is the longest continuing partnership of its kind, and through it Manchester United's contributions to UNICEF have reached 3 million British pounds (approx. 450 million yen). UNICEF has used these funds in developing countries mainly in Asia and Africa to provide assistance to 3.4 million children. Assistance has spanned the fields of health (basic medical assistance), education, as well as water and sanitation.
© Japan Committee for UNICEF
Manchester United made advocacy calls for assisting children on and of the field in both 2005 and 2007. Messages from Japanese supporters and soccer fans covered an advertising board set at the corner of the field at the team's exhibition match.
The contributions of Manchester United extend beyond donations alone. The team has taken various opportunities to utilize its globally prestigious position and influence to appeal to the importance of sports and play as basic rights of the child—a message of UNICEF—and to widely communicate the current situation of children across the world who face a diverse range of problems.
Every year at pre-season matches throughout the world, Manchester United works together with local UNICEF offices and domestic UNICEF committees to visit the people impacted by UNICEF assistance and hold events at child assistance facilities. When the team traveled to Japan in 2005 and 2007, it held charity auctions, broadcasted commercials with team members on major screens inside and outside the stadium, and sent its players to visit the children's wards of local hospitals.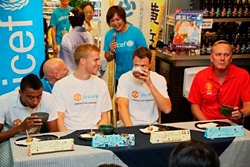 © Japan Committee for UNICEF/2013/M.Miura
Girls in traditional

yukatas

(a casual summer kimono) presented the players with tea and Japanese treats. A reporter who interviewed the players smiled and noted that, "Evans said the tea was more bitter than what he was used to, but that he really liked it."
It was the team's first visit to Japan in six years, and on Monday, 22 July they took time to interact with Fukushima children temporarily residing in Kanagawa Prefecture. The visit was made possible by JCU's Japan Earthquake & Tsunami Emergency Relief campaign and was held at Fukushima Café in Yokohama City. The team also invited 120 children and parents, including those from Fukushima, to its public practices and exhibition matches in Yokohama and Osaka. A signboard was posted at the corner of the fields in both cities reading, "There are lives we can save and futures we can change." In this way the team works to appeal to the importance of aid for children around the world.
Fukushima Cafe
Children in Fukushima Prefecture face different challenges than children in other prefectures affected by the disaster. As such, JCU has implemented the "Let's Play! The Outdoors Playtime Project" since the 11 March 2011 disaster in an effort to create safe opportunities for children in Fukushima to play outdoors without concern about radiation. The project provides the opportunity to play outdoors to more than 47,500 children who are unable to play at kindergarten and preschool play areas or even local parks. Since its launch, the project has continued as the Fukushima Child Recreation Project with the cooperation of many organizations and volunteers from across Japan, including JCU chapter associations. There are also many prefectural UNICEF associations that participate in other support activities for Fukushima residents living in refuge at various areas around Japan.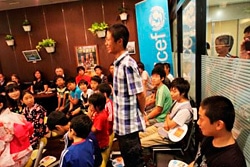 © Japan Committee for UNICEF/2013/M.Miura
When asked what the most popular sport in Japan is, a boy replies, "Soccer is very popular in Japan, but I play baseball," sending giggles across the room. During the Q&A session the children asked the players many questions, such as how long they practice everyday and whether they have ever had to give up on their own dreams. The players took the time to carefully answer each question: "We practice almost everyday from 9:00 a.m. sharp." "Giving up your dreams is choosing not to work hard. I believe that success can only be achieved through hard work."
On this occasion the Manchester United players visited Fukushima Café, a café opened on 12 February 2013 near Bashamichi Station in central Yokohama City. The café is a project put on by numerous organizations supporting disaster victims that have sought refuge in Kanagawa Prefecture, including the Kanagawa Prefecture Association for UNICEF, and aims at protecting children and their futures. It serves as a place for Fukushima Residents to connect and gather information about living in Fukushima and Kanagawa Prefectures. The café is run with the participation of numerous volunteers and residents from Fukushima Prefecture.
At the café, roughly 30 children between the ages of 3 and 18 welcomed Manchester United players Jonny Evans, Ben Amos and Jesse Lingard, as well as 1980s star Gary Bailey with a new English phrase they had been practicing: "Hello! Welcome to Japan!" The players took great care in how they approached the children, all of who continue to live in refuge away from their homes still two years after the disaster. Before the event they asked JCU staff, "What can we talk about?" Another player asked, "Is there anything we should not ask?" Their worries faded quickly, however, once the students sang for them a popular pop song Sekai ni Hitotsu Dake no Hana (A Flower Unlike Any Other) and presented them with famous sweets and green tea from Fukushima Prefecture.
Exchanging cheers of support
© Japan Committee for UNICEF/2013/M.Miura
A photo of a traditional doll made in Aizu, Fukushima Prefecture wearing a red Manchester United jersey. The doll, which famously rolls back to its feet when knocked over, was presented to the players by the children. The team was very excited to receive the good luck charm, and as they admired it expressed their gratitude and assurance that the charm would bring them luck in the new season.
The children and players made the most of their limited 40 minutes together. Before saying goodbye, the players presented the children with official Manchester United goods, to which the children presented the players with a banner that each had signed with messages of thanks for their visit and good luck for the new season. They also presented each player with their own special doll tailored to look like the Manchester United uniform.
After the visit, the Manchester United players expressed their gratitude for the visit. Jesse Lingard said, "I am so happy that we came here, and it would be an honor if our visit benefits these children." Ben Amos added, "I didn't know that UNICEF was also active in Japan. I am glad I had a chance to interact with the children." Jonny Evans noted, "We had a great time with the children. The new season is going to be a challenging one, but I'm going to keep my chin up and work hard." When asked for a message for the children of Fukushima, who are forced daily to endure a restricted lifestyle away from their homes, he underscored the importance of having a dream: "Never give up your dream! Giving up your dreams is choosing not to work hard. I believe that success can only be achieved through hard work."

Click here for the two-year report [7.2MB] »