Japan Earthquake & Tsunami Emergency Relief (201st report)

Night lighting completed at Minamisanriku play area
[31 July 2013, MINAMISANRIKU, JAPAN]
© Japan Committee for UNICEF
Children from a local sports club participate in the opening ceremony. Generous contributions by JCU donors have led to vast improvements in Minamisanriku.
The Japan Committee for UNICEF (JCU), as part of its Japan Earthquake & Tsunami Emergency Relief campaign, continues to support the efforts of affected municipal governments in Iwate, Miyagi and Fukushima. These efforts are aimed at reconstructing towns in these areas so that children can enjoy a life without fear.
JCU launched its assistance campaign in Minamisanriku Town, Miyagi by supporting the reopening of nursery, education and health centers in the town, while also working with Japanese specialist organizations to assist after-school care centers in addressing the severe lack of safe places for children to play. Meanwhile, JCU received a request from Minamisanriku Town to secure places to play sports such as baseball and soccer for children. These sports were traditionally vibrant components of the local community, and as such JCU decided to subsidize night lighting for an outside athletic field at Shizugawa Primary School.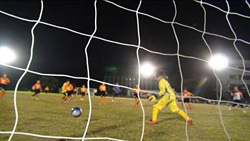 © Japan Committee for UNICEF
Children enjoying a match under the new night lighting. The new lighting allowed for after-dark practices and a significantly alleviated the burden on the children's parents, who send the children to and from the field after school.
Constructed began on 26 June and completed on schedule one month later. On 31 July, an opening ceremony was held with the participation of some 100 people, including the Minamisanriku Town Mayor, local government staff, children from the local sports club, and the many fathers and mothers that spearheaded efforts leading to the construction of these facilities in Minamisanriku.
Children from the local sports club in Shizugawa had once enjoyed the benefits of nigh lighting at Matsubara Field for their after-school practices. The facilities were unfortunately washed away in the tsunami, and today many schools use temporary housing to hold classes. This situation has forced children to endure long commutes to faraway fields to continue their practices. The burden on children's parents, who selflessly drove their children to and from the field after school, was significant, and there were children left with no option but to quit their team and others who gave up trying out for a team.
Assistance from our generous donors has made it possible for sports clubs in Minamisanriku to restart activities, and for children and other community residents to further improve their quality of life.

Click here for the two-year report [7.2MB] »