Japan Earthquake & Tsunami Emergency Relief (204th report)

Domestic violence training for social workers in Rikuzentakata
[21 August 2013, TOKYO, JAPAN]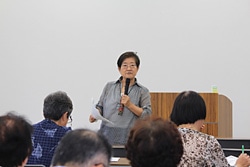 © Japan Committee for UNICEF
Social workers who support a variety of community welfare initiatives attended the training session. The lecturer for the training, Masayo Niwa, stands in the middle of the picture above.
The environment of children in the Tohoku region changed instantly as a result of the Great East Japan Earthquake. Many children lost family, relatives, friends, their homes and communities, and some are even forced to live far away at new places. There are also far fewer places to play, making it difficult for grandparents and community members to take an active role in child-rearing like they did before. The Japan Committee for UNICEF (JCU) has partnered with municipal governments and specialist organizations to support a wide range of local community initiatives aimed at ensuring that the uncertainty and stress spawned by this difficult situation do not negatively impact families and children, including in the form of violence.
Last year, Rikuzentaka (Iwate) produced the Date Violence Prevention Pamphlet for young people and distributed it at consultation centers and other organizations. JCU supported this initiative and on 21 August JCU provided support for a domestic violence prevention training hosted by the Rikuzentakata City Council of Social Welfare. Masayo Niwa was invited to lead the training. Ms. Niwa has long led efforts to support victims of domestic violence and is on the steering committees for the Asia-Japan Women's Resource Center and the Center for Education and Support for Women. Through the training Ms. Niwa worked to improve local social workers' ability to respond to consultations.
Preparing Social Workers for Consultations
© Japan Committee for UNICEF
In 2012, upon request from Rikuzentakata City Government, the Japan Committee for UNICEF provided support for the production of a pamphlet for children and youth aimed at preventing date violence. The pamphlet uses real examples and cartoons to answer questions that young people may have about what is considered "violence", what to do when violence occurs, as well as hints about building relationships built on mutual respect. Download the pamphlet for free here (Japanese).
Domestic violence is not only a problem in the areas affected by the Great East Japan Earthquake; domestic violence occurrences are reported across Japan. Domestic violence occurs in our immediate vicinity. One survey indicates that one in three women suffer from some form of violence from their husbands (physical, psychological or sexual), and one in twenty women have experienced life-threatening violence.
In her lecture, Ms. Niwa explained about the impacts of domestic violence on children and the relevant laws while also providing details about the history of domestic violence in Japan: "It was not until after the Second World War when individual dignity and equality of the sexes in the home and voting rights for women were inscribed clearly into law. Leftover beliefs from that era of feudalistic, patriarchal thought are still deeply rooted in society." She also discussed the structural cause of that violence, underscoring that the cause has nothing to do with the victim, but that there is a tendency for perpetrators to direct their personal pent-up resentment towards weaker family members.
A total of 36 child social workers gathered from around Rikuzentakata to participate in this training. Social workers play a tremendously important role because they are the most accessible outlets for people who have fallen victim to domestic violence or child abuse and are unable to discuss their situation openly. Ryoko Honda, a psychosocial assistance adviser (clinical psychologist) at JCU, commented that, "Whether social workers understand the background and causal structure of domestic violence heavily impacts their ability to respond to consultations and provide assistance. I think this training helped social workers reaffirm the importance of this understanding."
Steady Support
Ms. Niwa closed the training session with a message to the participants: "I hope that you will take what you learned today to implement assistance that respects the feelings and rights of the domestic violence victims, and that you become the leaders in creating communities that are safe for women and children."
Nearly two and a half years have passed since the disaster, and yet there are still concerns about increasing levels of violence and abuse towards children and women in the affected areas. Some news reports indicate that some communities are actually experiencing increases. The Japan Committee for UNICEF will continue to provide diverse support for initiatives aimed at combatting domestic violence.

Click here to view the date violence prevention pamphlet for children and youth (Japanese) [3.3MB] »

Click here for the two-year report [7.2MB] »