Japan Earthquake & Tsunami Emergency Relief (205th report)

Disaster preparedness week 30 August – 5 September: East Japan Earthquake and Tsunami: Survey Study on the Evacuation of Nursery Schools in Iwate"How were children saved?"
[30 August 2013, TOKYO/IWATE, JAPAN]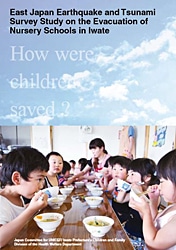 The report: East Japan Earthquake and Tsunami: Survey Study on the Evacuation of Nursery Schools in Iwate "How were children saved?"
The Japan Committee for UNICEF (JCU) and the Child and Families Section of the Iwate Prefecture Government (Health and Welfare Division) in February 2013 released a report entitled " East Japan Earthquake and Tsunami: Survey Study on the Evacuation of Nursery Schools in Iwate "How were children saved?"". As part of JCU's response campaign to the Great East Japan Earthquake, this effort aimed at utilizing lessons learned in the event a similar catastrophe occurs in the future. The report can be accessed from here.
While nursery center in Iwate were heavily damaged in the Great East Japan Earthquake, fortunately there were no casualties among the children and staff at those centers. But how were the children protected during such a disaster of unprecedented scale? JCU used questionnaires and interviews to survey nursery centers across Iwate about what evacuation actions they took, as well as their preparations and physical and mental preparedness before the disaster. JCU compiled these results into a report with the objective of tying the results to strengthening and improving disaster countermeasures at all types of facilities frequented by children in Japan and abroad.
Regular Preparedness Efforts Save Lives
Director of Emergency Programmes at UNICEF Headquarters (New York) Ted Chaiban lauded the report: "It is obvious that regular preparedness drills, such as evacuation drills, held at least once per month, the good judgment of the nursery center staff, and the extraordinary enthusiasm of staff who work with children towards their jobs was what saved the lives of children in Iwate. These things are vital not only in Iwate and at nursery center across Japan, but are equally as important for schools and similar facilities around the world, as well as in local disaster-preparedness efforts. I plan to share this report with other UNICEF offices and put the principles into practice."
The report is a compilation of information including the flow of events following the Great East Japan Earthquake, the status of conditions at evacuation centers, the path to recovery and reopening of centers, the path to restoring facilities and closing evacuation centers and future challenges related to disaster-preparedness measures. The report presents information through survey results and interviews with people from the affected areas.
Survey Results Highlights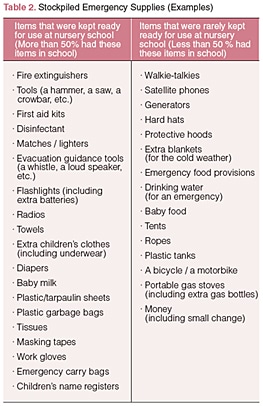 *Page 15 of the report.
Evacuation practices and related supplies
Infants from newborns to age 2 were strapped to the backs of staff or evacuated in special evacuation carts
Children above the age of 2 were guided by staff, either walking or running
Special evacuation carts were filled with blankets, diapers, emergency food, tissues and other essentials
Help was provided by fire fighters, community residents, as well as primary and junior high school students
Other important items that were taken were a student roster, first aid supplies, towels, a radio, a mobile telephone and other items
Evacuation shelters and regularly stocked supplies
Power outages disrupted information networks, and rendered heating and water unusable
Emergency cushions (used to protect one's head) also helped protect against cold weather
Snacks and emergency meals helped to feed the children and provide a sense of stability
Sanitary conditions will worsen, making hand sanitizer and wet tissues useful
Future points of consideration
Regular repetition of disaster-preparedness drills
Awareness of the possibility of disasters of unpredictable scale
Quickly identify evacuation routes that are safe and take into consideration the children's physical strength and line of sight
Share contact information to be used during evacuations with parents
Partner and cooperate with the community
Reference: Overview of Survey
Target: 353 licensed nursery centers in Iwate, of which 263 responded.
Method: Questionnaires (check boxes and free response); interviews *Method changed depending on the evacuation situation.
Content: 1) Normal nursery center disaster-preparedness measures; 2) situation of nursery center at the time of the earthquake; 3) evacuation actions taken following the earthquake; 4) other actions taken on day of earthquake; 5) circumstances surrounding the evacuation; and 6) lessons learned from the disaster.
Method of analysis: Comparative analysis conducted between the 12 coastal municipalities impacted by the tsunami and other areas
Period: 26 March 2012 – 20 April 2012
© Japan Committee for UNICEF
Nursery classes restart at a borrowed space at a primary school.

© Japan Committee for UNICEF
A nursery center whose building was badly damaged restarts classes using borrowed space. Cardboard boxes are used in the place of chairs.
*This report is not intended to substitute disaster-preparedness manuals used at nursery centers or other childcare or educational institutions. Moreover, this report does not in any way use numerical data gathered during surveying to make predictions or evaluate any organization or individual. Survey methods and data analysis is limited.

Click here for East Japan Earthquake and Tsunami: Survey Study on the Evacuation of Nursery Schools in Iwate "How were children saved?" [4.6MB] »

Click here for the two-year report [7.2MB] »