Japan Earthquake & Tsunami Emergency Relief (229th report)

Children present reconstruction plans at symposium: "What I want to say as a leader of tomorrow"
[27 March 2014, TOKYO, JAPAN]
On Thursday, 27 March at the UNICEF House in Tokyo the Japan Committee for UNICEF (JCU) hosted a symposium entitled "What I want to say as a leader of tomorrow". The symposium was an opportunity for children from schools in the affected areas to present what they learned from their experiences in the disaster and their ideas for reconstruction.
Sixth graders from Sendai (Miyagi), Otsuchi (Iwate) and Soma (Fukushima) spoke at the symposium, presenting ideas that were the result of countless school-wide discussions and refinement at their respective schools.
Before the presentations, activity reports were also delivered by Makoto Okada and Akiko Okada of the Takenaka Corporation, both advisors to JCU's child friendly spaces assistance campaign. The advisors made a strong call for the participation of children in the reconstruction process: "Reconstruction means starting completely over—building from scratch. This is a process that takes 10 to 20 years. It will be the children who build a community and continue to live in the new cities—they are the main actors when it comes to reconstruction."
Presentations Rich with Individuality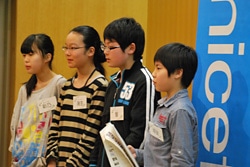 © Japan Committee for UNICEF/2014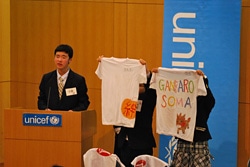 © Japan Committee for UNICEF/2014
The first presentation was by students from Ono Primary School in Soma (Fukushima). The students' logic was simple: in order to make Soma exciting, it is important to spread information about everything that makes it so attractive. They achieved this by first starting exchanges with people in Aizuwakamatsu, where they discussed and considered what could be done for Soma, and then created cookies, t-shirts and other items using traditions from the community such as Nomaoi (a traditional horse-riding event where samurai clad horsemen race over 1,000 meters competing for flags) and local fruit. There was also a recommendation to establish a mutual support structure with distant sister cities as a way to prepare for potential future natural disasters.
The next presentation was by students from Shichigo Primary School in Sendai (Miyagi). Shichigo is undergoing immense change; the city has developed reconstruction housing and even advanced plans to transfer irrigation channels underground. Shichigo Primary School has utilized its general studies course time to allow students to consider the future of their town by constructing a model city. The model of their future city is diverse with ideas, including futuristic storehouses, solar power and even a reconstruction memorial building. One student noted, "It was difficult to decide what to keep and what to build new."
Last, students from Otsuchi Primary School in Otsuchi (Iwate) presented. Otsuchi Primary School students considered what shape future classrooms should take and presented their ideas in a model. The model was rich with creative ideas, including a mechanism where four classrooms rotate with the push of a single button and giant windows that brought in ample natural sunlight. Several of the children's ideas are planned for actual incorporation into a new joint junior high and high school building that is scheduled to open in 2016. The students appeared to be very excited in anticipation of the completion of their new school.
Lively Panel Discussion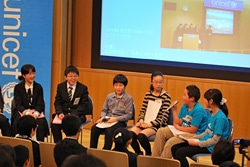 © Japan Committee for UNICEF/2014
Two students from each school took the stage to represent their respective schools in the panel discussion, which was moderated by Professor Sato of Yamagata University. Ms. Honda of the Japan Association for Play Therapy as well as Mr. Amano of the Japan Play Association also participated. The participants praised the positive efforts underway and also shared their various ideas as survivors of the disaster and from their unique perspective as children. A common thread evident throughout the children's messages was the importance of expressing one's opinions and overcoming hardship through mutual support with family and friends. The theme for the symposium centered on children having the opportunity to communicate their message to adults. When posed with this task, some children expressed that children's hearts are "smaller and more easily influenced," making it important to pay attention to even the small changes. Other children voiced that children, just like adults, have grand dreams and desires, so they hoped that adults would better incorporate their ideas into the process. They asserted that, as the future leaders of their communities, they should not only be viewed as aid recipients but as partners who work with adults to create a better tomorrow. The audience welcomed all of these views with applause.
Paving the Path to Reconstruction Together with Children
© Japan Committee for UNICEF/2014
Mio Nemoto, an Emergency Specialist at UNICEF's East Asia and Pacific Regional Office, provided commentary and concluded the symposium by pointing out that the efforts of these three schools presented were perfect, concrete examples of keywords found in UNICEF disaster-preparedness undertakings: disaster-preparedness for children; and disaster-preparedness together with children. Mr. Nemoto went on to say that the homework the adults had received from the children was reflecting their messages into the means and methods for supporting schools and the community.
Moreover, the models and t-shirts the children created were displayed outside of the hall where the symposium took place. After the symposium, participants enjoyed the exhibits while engaging in energetic discussions with the students. Participants took the time to carefully answer each of the students' questions, and the students appeared proud as they passionately explained about their creations.
Third World Conference on Disaster Risk Reduction (March 2015)
© Japan Committee for UNICEF/2014
In March 2015, the Third World Conference on Disaster Risk Reduction is scheduled to take place in Sendai (Miyagi). The conference will be an opportunity to show the world how the affected areas have reconstructed following the Great East Japan Earthquake and to share Japan's experience and knowledge pertaining to disaster-preparedness with the international community. In preparation, UNICEF is promoting the incorporation of "child participation" as a component in the conference to stakeholders including the Government of Japan. UNICEF believes that listening to what children have to say and learning from them will lead to creating societies that are resilient against natural disasters. The presentations delivered by students at this symposium were a significant step leading toward improving awareness about reconstruction and disaster-preparedness not only in the affected areas of Tohoku, but across the world.
* * * * *
Release of Three-Year Report
The Japan Committee for UNICEF has recently released its East Japan Earthquake and Tsunami Disaster Three-Year Report. The Japan Committee for UNICEF began its assistance campaign in collaboration with its diverse family of partners in March 2011, directly following the disaster. Utilizing the knowledge accumulated by UNICEF's decades of experience, the Japan Committee for UNICEF has implemented ongoing assistance in six key areas: provision of emergency relief supplies; health and nutrition; education; psychological support; child protection; and child-friendly reconstruction plans.
Related links
Child-friendly reconstruction plans (Japanese only)
JCU Japan Earthquake & Tsunami Emergency Relief homepage

Click here for the three-year report [7.5MB] »