Japan Earthquake & Tsunami Emergency Relief (112th report)

Subsidized influenza vaccinations for 160,000 children in Iwate, Miyagi, and Fukushima
[TOKYO, JAPAN, 18 October 2011]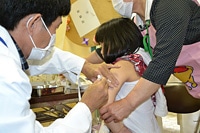 © Japan Committee for UNICEF
A vaccination being given in Rikuzentakata City on 2 June.
The Japan Committee for UNICEF (JCU) has decided to provide assistance for influenza vaccinations for children in 28 municipalities along the affected coastal areas of Iwate, Miyagi and Fukushima Prefectures. Starting this month, JCU will be subsidizing 2,000 yen of the cost of influenza vaccinations given by local health authorities. The subsidies will be available for approximately 160,000 children between the ages of six months and junior high school in various areas across these three prefectures.*
A total of 15 municipalities have already been selected to receive this assistance. In Iwate Prefecture: Miyako City; Kamaishi City; Rikuzentakata City; Otsuchi Town; Yamada Town; Iwaizumi Town; and Tanohata Village. In Miyagi Prefecture: Watari Town. In Fukushima Prefecture: Soma City; Shinchi Town; Futaba Town; Hirono Town; Naraha Town; Kawauchi Village; and Katsurao Village. Adjustments are currently being made with related organizations to determine additional target municipalities.
*Procedures for this subsidy differ by municipality. However, in principle, residents that apply for an influenza vaccination for their child will be able to receive the vaccination by paying the reduced balance following the JCU subsidy.