Japan Earthquake & Tsunami Emergency Relief (114th report)

Tegami Project: Letters delivered to Fuji Kindergarten in Yamamoto Town, Miyagi Prefecture from New Zealand and Hong Kong
[MIYAGI, JAPAN, 20 October 2011]
The last installment of the Tegami Project for the month of September was held at Fuji Preschool in Yamamoto Town, Miyagi Prefecture. Letters delivered to Fuji Preschool came from children in Hong Kong and New Zealand. On this occasion, Ms. Agnes Chan, originally from Hong Kong and currently the principal of a high school in New Zealand, accompanied the Japan Committee for UNICEF (JCU) on the visit. Ms. Chan is also a JCU Ambassador. At Fuji Preschool we were met by the energetic smiling faces of nearly 100 children. When the teacher asked the children whether they knew why they had gathered, they all smiled and cheered, "Because Ambassador Chan has brought us letters!"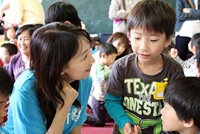 Under the Tegami Project, children first start by learning about the country of children that sent the letters. On her visit, Ms. Chan told the children all about both Hong Kong and New Zealand as she showed them pictures of the countries. The children also learned how to say "thank you" in the official languages of both countries. The children practiced saying "xie xie" in Chinese, and Ms. Chan walked around complimenting the children on how good they sounded. In English, Ms. Chan emphasized correct pronunciation, and the children concentrated hard on using their tongues to make the "th" sound, which does not exist in Japanese.
After learning how to say "thank you" in both languages, Ms. Chan presented the children with letters from their new friends in Hong Kong and New Zealand. The letters were stored in a box so big the children could not even wrap their arms around it. They began to pull out letters with messages that resembled an illustrated diary, as well as letters with brightly colored pictures drawn to boost the courage of the children. After receiving such heartfelt letters, each child ran back to their desk as fast as their legs could take them and immediately began writing their reply.
Children that finished writing and drawing began to yell out "Me first!" and "Look at mine!", running to bring what they had drawn to Ms. Chan.
Lastly, JCU Ambassador Chan presented the children with a song. The children listened intently with big smiles. When she was finished, the children returned the favor by singing and dancing to a song called "Walking". The Japan Committee for UNICEF will continue to promote the Tegami Project in order to deliver letters written by children around the world to the children of the Tohoku region, and then to deliver the replies of Tohoku children to the original senders.
All photo credits: © Japan Committee for UNICEF
Tegami Project Website »