Japan Earthquake & Tsunami Emergency Relief (116th report)

Workshops held on building parks for children
[TOKYO, JAPAN, 27 October 2011]
As one part of assistance activities in response to the Great East Japan Earthquake, the Japan Committee for UNICEF (JCU) creates opportunities for children to participate in the recovery and reconstruction process, and assists projects being carried out in Otsuchi Town (Iwate), Onagawa Town (Miyagi) and Soma City (Fukushima) to ensure that cities are reconstructed in a way where children can enjoy fun and comfortable lives.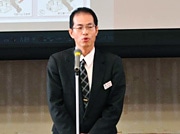 Vice mayor Ishizu
In Otsuchi Town, Iwate Prefecture, there are an extremely limited number of locations where children can play comfortably and safely. In response to this situation, efforts are being carried out mainly by the town's Community Development Section to construct a park (play area) on the grounds of the Support Center in the temporary housing district. In order to support this initiative, JCU has provided play equipment such as slides, cooperated with the Community Development Section, and supported the creation of a park-building process that reflects the opinions of town residents. As part of the project, a workshop was held with parents and children from the town. Opening the workshop on 23 October, Otsuchi Town Mayor Mr. Ishizu greeted the audience, saying, "We will be building parks with the aim of promoting intergenerational exchange between parents and children, encouraging regional exchanges between residents living in temporary housing and residents living in existing housing districts, and increasing the number of fun places where children can play."
With the focus on children, each participant used the five colors of crayons and drew pictures of what kind and color of play equipment they wanted. Everyone enjoyed drawing their own ideas, and then each participant voted from among the completed pictures. The winning selection was a vibrantly colored picture with spirited energy.
Drawing time.
The parents were also asked to choose between different types of slides, stairs and other equipment. The colors and parts chosen during this process will be used for the actual play equipment in the park.
Everyone gave their vote.
At the end of the event, the children performed a "Wash Your Hands" dance!
The participating children told us, "The drawing was the best part!" and "I can't wait to play on the slide!" One parent voiced that, "There is still such a lack of places where children can play." Another said, "I am so happy that a place will be constructed where children can play safely."
On this occasion, play equipment will be installed on the grounds of support centers at two temporary housing districts, the Otsuchi District and the Kozuchi District (scheduled completion in March, 2012). This equipment will be transferred to parks to be built during new urban development undertakings, left to remain as memories of the parents and children that participated in this event. The Japan Committee for UNICEF will continue to support undertakings related to child-friendly urban development.
All photo credits: © Japan Committee for UNICEF