Japan Earthquake & Tsunami Emergency Relief (117th report)

Junior high and high school student "Memoirs of 11 March" picked up by the Yahoo! Photo Conservation Project
[TOKYO, JAPAN, 2 November 2011]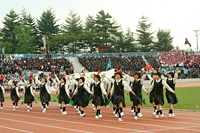 © Japan Committee for UNICEF /2011
"We were playing against each other, but it felt more like we were supporting each other," said one student that competed in the Iwate Prefectural Inter-Junior High School and Inter-High School Athletics Competition, which were held between late May and August of this year. Now, photographs and wonderful accompanying descriptions of junior high school and high school athletes from affected coastal areas that were able participate in the competition thanks to the assistance of supporters of the Japan Committee of UNICEF (JCU) are available for view on the Yahoo! Photo Conservation Project website. Staff at Hakuhodo worked on a pro-bono basis to support PR-related activities for this initiative, helping to take these photos and come up with thoughtful descriptions for each, and culminating in the "Memoirs of 11 March". Please take advantage of this opportunity to view these wonderful pictures via the link below.
Yahoo! Photo Conservation Project (Japanese only) »
The Iwate Prefectural Inter-Junior High School and Inter-High School Athletic Competitions were important events held to determine which winners from the district-level competition would be able to compete at nationals. Following the disaster, prospects for schools in the coastal areas, where damage was particularly severe, to participate in these competitions were bleak. After receiving requests from the Iwate Prefecture Board of Education and the Iwate Prefecture Junior High School and High School Athletics Federations, JCU made the decision to provide assistance in order to fulfill the dreams of children striving to participate in this event. The assistance was also provided as a form of psychosocial assistance for children and in order to create a source of positive news in the disaster area.
Many children in the affected areas told JCU that the restart of extracurricular club activities made them happier than anything else that had happened after the disaster. The strong efforts of competitors on the field also provided a renewed sense of energy and courage to those in the affected areas. After the competition, participating players thanked the Japan Committee for UNICEF, saying that they were grateful to be able to receive assistance that led to their participation in the competition from so many people.
Past articles related to the Iwate Prefectural Athletics Competition
Kick off of the Iwate Prefecture Inter-High School Athletic Competition!Children from all parts of Iwate Prefecture join! " »
Update from Rikuzentakata on the Iwate Prefecture Inter-High School Athletic Competition" »
Iwate Prefecture Inter-High School Athletic Competition First and main event periods complete " »
The 58th Iwate Prefecture Inter-Junior High School Athletic Competition! Bringing together the dreams of Tohoku children " »
The 58th Iwate Prefecture Inter-Junior High School Athletic Competition Sumo event " »
Report on the Iwate Prefecture Inter-Junior High School Athletic Competition -Pro athletes deliver passionate messages of encouragement to children- »