Japan Earthquake & Tsunami Emergency Relief (119th report)

The UNICEF Prayer Tree Project: Giant Christmas trees coming your way!
[TOKYO, JAPAN, 9 November 2011]
These giant "trees of prayer" are a special kind of Christmas tree. They are decorated with sparkling ornaments designed by the hands of 2,000 professional designers and art university students. The theme for this design project is "Prayer for the early reconstruction of the disaster areas."
Today, 9 November, the first five-meter "prayer tree" was set up at the Ginza Mitsukoshi department store and a press conference was held at its base. Numerous promoters gathered for the event, including the project's Art Director Mr. Kashiwa Sato.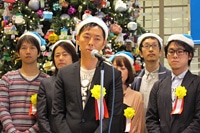 Art Director Mr. Kashiwa Sato with other project promoters.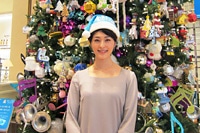 Television announcer Ms. Akiko Abe.
Mr. Sato expressed his own feelings for the children in the affected areas: "Ever since the day of the disaster, I have wanted to do something creative for the cause, but until now I have been unable. Christmas, however, is the perfect opportunity to put our skills to use. I hope that this effort brings Tokyo and the affected areas closer together and serves to restore smiles to the faces of children in those areas during the Christmas season."
Ms. Akiko Abe, who served as the MC for the event, added, "I hope that people in the affected areas are able to see the genuine sentiment that went into creating these ornaments by our team of over 2,000 people. There may be tough times ahead, but the people of the world will not forget about you. We are all in this together, so stay strong and don't lose hope!"
This Christmas JCU holds the people of Tohoku in its heart, as the affected areas are forced to experience Christmas under such trying circumstances. The UNICEF Tree of Prayer project was launched with the hope of warming the hearts of children in the disaster areas with a special present. Throughout the Christmas seasons JCU will endeavor to spread prayers for the happiness of children in the areas affected by the Great East Japan Earthquake.
As part of this project, "prayer trees" will be erected at five places in Ginza and Yurakucho, as well as in Sendai and Kesennuma starting in early November. The trees will remain on exhibit until Christmas day, Sunday, 25 December. Starting 23 November, JCU also will launch a "make an ornament campaign" where people that make a donation are given the opportunity to make and donate one of the ornaments on display.
All photo credits: © Japan Committee for UNICEF
Prayer Tree Display Schedule
・Ginza Mitsukoshi
Location
1F west-side entrance with the lion statue
Period
9 November (Wed) – 25 December (Sun)
Ornament
fundraiser
23 November (Wed; holiday) – 1 December (Thurs)
9F Ginza Terrace
Notes
Also plans for additional events such as ornament-making workshops and mini concerts during mid-December.
・Matsuya Ginza
Location
Special event space on 1F
Period
23 November (Wed; holiday) – 25 December (Sun)
Ornament
fundraiser
23 November (Wed; holiday) – 4 December (Sun)
Near the Christmas tree
・Shiseido The Ginza
Location
1F beauty goods sales floor
Period
21 November (Mon) – 25 December (Sun)
Ornament
fundraiser
23 November (Wed; holiday) – 1 December (Thurs)
1F beauty goods sales floor
・Lumine Yurakucho
Location
1F main entrance
Period
14 November (Mon) – 25 December (Sun)
Ornament
fundraiser
23 December (Sat) – 4 December (Sun)
Outdoor event space "Lumine Passage"
・Yurakucho LOFT
Location
1F near entrance
Period
3 November (Thurs; holiday) – 25 December (Sun)
Ornament
fundraiser
23 November (Wed; holiday) – 4 December (Sun)
Near the Christmas tree
・Sendai LOFT
Location
TBD
Period
12 November (Sat) – 25 December (Sun)
Ornament
fundraiser
23 November (Wed; holiday) – 1 December (Thurs)
・Sendai Mitsukoshi
Location
1F Jozenjidori Building at the "Hikari-no-Hiroba"
Period
28 November (Mon) – 25 December (Sun)
Ornament
fundraiser
28 November (Mon) – 25 December (Sun)
Near the information desk on 1F of the main building and near the information desk on 1F of the Jozenjidori Building
・Kesennuma Reconstruction Food Stall Village
| | |
| --- | --- |
| Period | Early December – 25 December (Sun) *Tree display only |
The Prayer Tree Project (Japanese only)