Japan Earthquake & Tsunami Emergency Relief (120th report)

JCU Ambassador Agnes Chan visits child friendly space "Futaba Square"
[TOKYO, JAPAN, 10 November 2011]
On 8 November, Ambassador to the Japan Committee for UNICEF (JCU) Agnes Chan visited former Kisai High School in Kazo City, Saitama Prefecture, which is being used as a shelter to host a total of 673 residents from Futaba Town (as of 2 November). On her visit, Ms. Agnes Chan was welcomed by children playing at "Futaba Hiroba", a child friendly space set up in the former high school's gymnasium by JCU.
Ms. Chan also met with Futaba Town Mayor Katsutaka Idogawa to hear about the situation of the town's children.
Ms. Chan told the Mayor, "The greatest gift we could ever receive is seeing everyone stay strong and positive, working hard to build a better tomorrow. The health of everyone here is an inspiration to the entire nation." Mayor Idogawa responded with powerful words: "We won't lose. We will make sure that the children grow up healthy and become strong leaders of tomorrow. We may not be able to return to our houses now, but our true home is always in our heart. This is only true home in the world for anyone. That home we will not lose."
At the child friendly space Futaba Hiroba, Ms. Chan played, sang and spent time drawing with the children. She even read the children author Shuntaro Tanikawa's "Moko Moko Moko". The story started quietly, but then there was a gradually escalating noise: "moko…moko…moko." Then, the big mountain-looking monster scarfs up a neighboring tree, returning things, again, to complete silence. The children were absolutely absorbed in the mysterious story. When Ms. Chan explained to the children that the story represents life, one girl said, "What do you mean, life?" Then Ms. Chan placed her hand on each child's cheek and said, "I mean that all of you have a precious life. Every one of you." Ms. Chan then took time to speak with the children's parents, who along with their children still live in the shelter.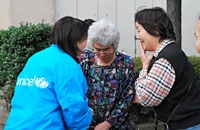 Before leaving, Ms. Chan presented Mayor Idogawa with warm pairs of socks and belly warmers for the town's people, telling him, "Winter is coming and I brought these so that you will all be warm. I hope that you will stay strong and take care of your health. We will continue to do everything that we can to help you all, working with other organizations. You have lots of friends, so please don't hesitate to come to us for anything at all. We are here for you."
All photo credits: © Japan Committee for UNICEF