Japan Earthquake & Tsunami Emergency Relief (129th report)
-Supporting small children and their mothers-
Psychosocial care for mothers and children by the FSCCP
[FUKUSHIMA, JAPAN, 8 December 2011]
As part of its psychosocial care campaign for preschool-age children living in the disaster areas and areas that receive disaster victims, the Japan Committee for UNICEF (JCU) has commissioned the Fukushima Society of Certified Clinical Psychologists (FSCCP) to provide psychosocial assistance for mothers and their children. Under this project, clinical psychologists and nursery staff are dispatched to shelters, temporary housing and health centers to provide psychosocial care. This is done through group work conducted between mothers and the clinical psychologists, as well as playtime between the children and nursery staff. The project, which started in late June of this year, had the participation of 866 adults and 591 children as of the end of October.
As one effort under this project, on 6 December 2011, the "Kids' Zone" was launched at the Daishin Health Center in Fukushima's Shirakawa City.
On the opening day, parents and their children entered the health center with smiling faces as they cheerfully greeted the staff. A total of 10 mothers from the Daishin district visited the center on the first day together with their 0-2 year-old children. After an opening greeting, Ms. Takahashi and Ms. Makita, two of the nursery staff, played games and sang songs with the participants in order to boost the level of interaction between parent and child. There were songs, games where the children got to run around, and even tickle time! The children were exuberant with laughter from start to finish.
After about 30 minutes of parent-child playtime, the participants began an hour-long session of group work while the children played with the nursery staff and healthcare workers from Shirakawa City. During the group work, participants first engaged in a stretching exercise and then the clinical psychologists facilitated the parents in an opinion exchange about their daily concerns and ideas.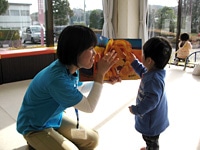 Many parents exchanged views and consulted about the issue of radiation. Parents of children between the ages of one and a half and two, who are becoming more active and ask to play outside, were particularly concerned about the lack of opportunities for their children to play freely outside. They talked about how, despite the circumstances, they were doing everything that they could, such as taking their children to parks far away with low radiation levels or taking them to indoor play facilities. It was very clear that all of the parents were worried and frustrated by the uncertainty of the situation, as they do not know how long they will have to keep their children from playing outside.
After the event, a handover ceremony was conducted by the participating clinical psychologist, nursery staff and city health nurse. Next, an opinion exchange was held on important points from the event and reflections on areas for improvement. The city health nurses provide support to local children and their parents on a daily basis, and utilizes the advice received from the clinical psychologists in their daily activities. One of the health nurses from Shirakawa City, Ms. Ogura, commented, "There are not many opportunities for parents to gather and have a thorough discussion. I hope that parents utilize this as a chance to talk with other parents and to get some time to relax."
Ms. Kanae Narui, head of the FSCCP, added, "Compared to when we first started our work, parents under immense stress that were once brought to tears just by talking alone have been able to ease some of that stress with time. However, parents with small children that are concerned and stressed over the issue of radiation will not be able to rid that stress so easily. I hope that they will utilize this opportunity as a way to acquire information from other participants, exchange opinions and make their own decisions. I want them to gain confidence for living as residents in this community."
This project is being conducted together with child and infant checkup consultations, traveling consultations to temporary housing and training for health nurses. The Japan Committee for UNICEF will continue to provide assistance to respond to these prolonged problems in 2012 as well. For more information on activity plans, see the Fukushima Society of Certified Clinical Psychologists(Japanese only).
All photo credits: © Japan Committee for UNICEF