Japan Earthquake & Tsunami Emergency Relief (130th report)
UNICEF Mini Children's Library project completed!
Over 300,000 book donations sent to children in affected areas
[TOKYO, JAPAN, 12 December 2011]
A portion of the books donated.
The UNICEF Children's Mini Library project was launched in order to put smiles on the faces of children in the affected areas by providing them with books donated by people across Japan. Today, 12 December, the last of all of the donated books have been delivered, officially bringing the project to a close.
Over 300,000 books donated from across Japan have been delivered to the hands of children in the disaster areas. More than eight months have passed since the first shipment was delivered on 4 April, and during that time we have received countless requests for UNICEF Children's Mini Libraries as well as messages of gratitude via telephone, fax and email. The project's attractive illustrated logo, which was created by Dentsu's Corporate Philanthropy & Environmental Initiatives Management Department, also receives a significant amount of praise.
We would like to again express our gratitude to everyone that donated children's books and kami shibai (Japanese picture card stories), as well as all of the volunteers and personnel that played a part in this project.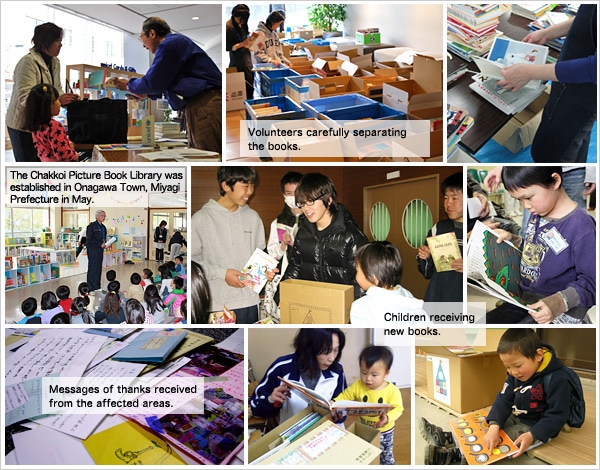 All photo credits: © Japan Committee for UNICEF