Japan Earthquake & Tsunami Emergency Relief (131st report)
Support for fathers in the affected areas!
Workshop on Assistance for Single-Father Households and Fathering
[MIYAGI, JAPAN, 14 December 2011]
Participants listening carefully.
The Japan Committee for UNICEF (JCU) implements assistance for single-father households and fathers in affected areas that suffer from stress over reconstruction in order to prevent child neglect, domestic violence involving children, child abuse and family suicide. Since October, JCU has entrusted NPO Niiza Childcare Support Network with holding workshops for personnel involved in child-rearing at nursery centers, kindergartens, child-rearing assistance centers and child consultation centers, as well as the leaders of temporary housing neighborhood associations. JCU aims to create an environment where it is easy to provide support for fathers affected by the disaster and their families. Dubbing this brand of assistance "father assistance", JCU provides fathers with support techniques, expertise, information and critical thinking methods related to single-father households and fathering. To date, a total of eight father assistance workshops have been held in Sendai City and Ishinomaki City.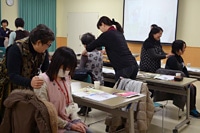 In this exercise, the instructors introduced a massage technique to participants that can be used to ease built up tension and stress.
As one part of these efforts, on Friday, 9 December, a workshop was held for staff designated to assist affected fathers at the Hebita location of the Miyagi Co-op, in Ishinomaki City, Miyagi Prefecture. The workshop received the participation of 18 individuals, including volunteer staff from the Kopu Mutual Assistance Association and the Child-Rearing Zone, staff from the Kopu Mother Support Room, which offers temporary childcare services, as well as others from the volunteer center. During the three-hour workshop, an explanation was provided by lecturers from the Niiza Childcare Support Network on basic knowledge regarding father assistance in addition to the important points to remember when providing assistance for families that face problems as a result of a disaster. Next, a lecture was held on information regarding the lifestyle of single-father households. Video was also used to provide advice from university professors and experts in the field of child-rearing assistance, and the participants were able to take part in an exercise than can be used to help parents relieve stress, relax and ease tension built up in their bodies. Participants took notes as they enthusiastically listened to the lectures.
One participant commented that, "This workshop made me realize the large amount of assistance that we can provide on a daily basis. I want to conduct assistance activities while focusing on fathers distressed over child-rearing issues." Another participant said, "We are limited in what we can do as an individual, but this workshop made me sense that I can make a difference and that I can bring people together."
The father assistance personnel trained through this workshop are to participate in a soba noodle and cake baking project before the year-end holiday season with the objective of creating a network with community fathers. The Japan Committee for UNICEF (JCU) plans to continue and further expand aid for affected single-parent families in 2012, including assistance for single-father families and fathering.
For more information concerning assistance for single-father households and fathering, visit the website of the Niiza Childcare Support Network(Japanese only).
All photo credits: © Japan Committee for UNICEF