Japan Earthquake & Tsunami Emergency Relief (142nd report)

Nursery staff from across Japan supporting the affected areas
[IWATE, JAPAN, 7 February 2012]
The Japan Committee for UNICEF (JCU) has assisted with the reopening of preschools affected by the disaster through the provision of equipment and supplies and the construction of temporary school buildings. Almost a year has passed, and during this time most preschool staff in the affected areas have been unable to take time off from their demanding work to rest, as the staff themselves are also disaster victims. Concern is thus growing over the accumulating physical and mental burden being put on these workers.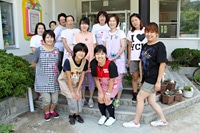 © Japan Committee for UNICEF /2011/K.Goto
Nursery staff of Yamada Chuo Kindergarten. The two staff kneeling in the front are volunteers.
With the cooperation of Nursery Teachers' Committee, a subsection of the Tokyo Council of Social Welfare, JCU has provided emergency childcare assistance from July 2011 by dispatching short-term volunteer nursery staff to Otsuchi Town and Yamada Town in Iwate Prefecture.
Nursery Teachers' Committee members and other active nursery staff from across Japan have volunteered to take leaves of absence and paid holiday from their normal work to participate in this initiative, under which a total of 76 nursery staff have provided 286 days' of volunteer service as of the end of December 2011. Principal Yamasaki of Yamada Chuo Preschool commented that, "Many of our teachers also suffered in the disaster, but when taking into account the children, there was no way that they would take off work. The volunteers' efforts allowed our teachers to rest and even provided a new stimulus for the children. I plan to one day visit the preschools of the volunteers that were so kind to help us." A teacher from Yamada Chuo Preschool added, "Because of the volunteers I was able to take time off to take care of administrative errands that I was unable to attend to. The volunteers were also certified teachers, so I was able to entrust them with my class without having to explain too much. It was very reassuring."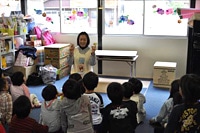 © Japan Committee for UNICEF
A volunteer preschool teacher conducts class at Otsuchi Preschool.
Principal Yagisawa of Otsuchi Preschool said, "The volunteers sure were a major help. It was a true comfort because they were preschool teachers themselves." A volunteer that participated in this initiative also commented, "I had always wondered if there was anything that I could do, but it was difficult to act on my own. That is when I heard about the chance for nursery staff to provide assistance, and I immediately sent in my request."
Another volunteer said, "I intend to internalize what I learned from the children here, and then share it with those around me." The dispatch of nursery staff to Otsuchi Town concluded at the end of October 2011. In Yamada Town, however, in response with a high number of requests received from local preschools, dispatches are scheduled to continue until the end of March 2012.