Japan Earthquake & Tsunami Emergency Relief

Letters from children in Ukraine and Hungary delivered to children in Fukushima
[FUKUSHIMA, JAPAN, 23 February 2012]
On 23 February letters from Ukraine and Hungary arrived at Watari Preschool in Fukushima Prefecture. The box of letters included messages sent from a primary school in Kiev, the capital or Ukraine, and from a nine-year-old boy in Hungary. The letters were delivered to Watari Preschool by Ms. Helen, an English conversation school teacher in Sendai City who is originally from the Ukraine, and Ms. Judith, a Hungarian professor working at a university in Tokyo.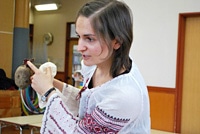 The children learn about beets.
The children erupted in excitement when the two guests entered the room wearing ethic costumes. First, Ms. Helen told the children about Ukraine. She played traditional ethnic Ukrainian music for the children, giving them a taste of what things are like in Ukraine. Next, she showed then where Ukraine is located on a map, followed by a photograph of a delicious-looking bowl of soup. The children excitedly said, "Yum! I want to try some!" Then Ms. Helen shared with the children how the soup was made, actually showing them the vegetables used. The children immediately said, "That's a potato!" Ms. Helen then cut the vegetable in half to reveal its bright red centre; it was a beet. The children were very interested in the rare vegetable. Lastly, Ms. Helen showed the children the cloth that is used when presenting bread to visitors, and examples of Pisanka, a traditional Ukrainian craft where designs are drawn onto eggs.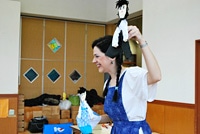 Next, Ms. Judith talked to the children about Hungary. She used dolls that she had handmade by dressing rice scoops in clothes to introduce her country. She also gave a short overview of notable places in Hungary and the Hungarian language. Next, it was dance time. Ms. Judith taught the class about a type of game that Hungarian children often play. It was somewhat similar to the well-known "London Bridge is Falling Down", but the Hungarian version starts with a special Hungarian dance. Everyone laughed and enjoyed as one group of children would sing and hold each other's hands high in the air and the other group ran underneath.
Last, she passed out the letters to the students. Four students stood in front of the class to receive the box of letters from Ms. Helen and Ms. Judith on behalf of the others. The box was full of decoratively colored letters that included kind messages and hand-drawn pictures of girls wearing kimonos and traditional Ukrainian costumes. Attached to the letters from Hungary was a message that read, "We pray for the happiness of everyone in Japan."
After reading the letters, the children wrote responses to their new friends in Hungary and Ukraine. Each child wrote a unique response, some folding cranes out of Japanese-style origami paper and others drawing self-portraits to insert into the envelopes.
All photo credits: © Japan Committee for UNICEF