Japan Earthquake & Tsunami Emergency Relief (151st report)

Kirikiri Preschool graduates class of 10
[IWATE, JAPAN, 24 March 2012]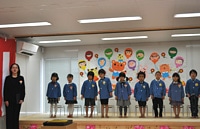 ©Japan Committee for UNICEF
On a snowy 24 March the 52nd Kirikiri Preschool graduation ceremony was held at the school building in Otsuchi Town, Iwate Prefecture. A red and white curtain had been strung up to decorate the temporary school building's auditorium, where the class of 10 grinning graduates lined the stage. One-by-one the children thanked the principal with a big "Thank you!" as they were handed the graduation certificate in front of a proud audience of teachers, parents and guests.
The class of younger students then spoke about past memories they had shared with each of the 10 graduating children. One of the children said, "She was really good at reading story books." Another stated, "He was nice to younger students," and yet another said, "She spoke loud and was a very fast runner." After the celebratory remarks of the younger class, the graduates replied with the following message: "It is your turn to fill our shoes. Please follow our lead and treat the younger class with kindness!"
In a farewell presentation, the graduating class thanked their teachers and parents, exclaiming in unison, "Look at how big we are now!" Next, they sang a lyrical memoir that traced all of their favourite memories at the school, including mentioned to the "temple preschool", making the wooden deck at the new temporary building, recreational events, sporting events, autumn field trips, making rice cakes, crafting decorations and the annual Doll Festival. Kirikiri Preschool had faced criticism over holding such events in spite of the difficulties brought on by the disaster, but the school's principal and teachers worked to carry out each of the seasonal events just as any other year. The teachers strived to create as many fun and meaningful memories as possible for the children.
After the graduation certificates were presented to the students, performances were given first by the boy students and then by the girls. The graduates then came together one last time to sing a cheerful song about becoming first-year primary school students.
The past school year has been one of endless hardship. On this day, however, parents and teachers alike sat back and celebrated how much the graduating students had grown over the past year and how they stood ready for the new adventure to come.

Click here for the one-year report (PDF) »