Japan Earthquake & Tsunami Emergency Relief (193rd report)

Hebita Junior High School students from Ishinomaki City visit the UNICEF House
[TOKYO, JAPAN, 8 May 2013]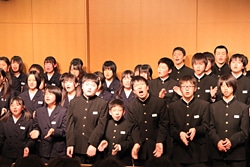 © The Japan Committee for UNICEF
On 8 May, a group of 78 third-year students from Hebita Junior High School in Ishinomaki City, Miyagi Prefecture visited the UNICEF House in Tokyo. The school has received UNICEF assistance since the Great East Japan Earthquake, and on this occasion the students presented a song to UNICEF as a sign of their gratitude.
Two class representatives greeted the audience on behalf of their school:
"Ishimaki City was heavily damaged by the earthquake and tsunami. When I joined the school, a large number of people were still living away from their homes. We started this chorus group with the aim to elevate their spirits and bring them happiness. On this occasion, we have worked hard to prepare a song for you in order to thank you for your assistance.
"Although we were not physically harmed by the earthquake or tsunami, it was impossible to sleep due to the frequent aftershocks, and life was very tough as we had no electricity or running water. We cannot thank UNICEF enough for supporting us through those trying times.
"In particular, we are very grateful for your support to restart school lunches. The first lunch we had after the disaster was a piece of bread and a carton of vegetable juice. That is when UNICEF stepped in to help by supplying lunch dishware, providing all students with dishes and chopsticks.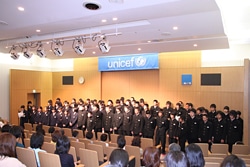 © The Japan Committee for UNICEF
"There are children who are now able to learn and participate in extracurricular activities thanks to your assistance. We cannot thank you enough."
After their opening remarks, the chorus presented three songs: Hana wa Saku (Blooming Flowers), Niji o Kakeyo (Building Rainbows) and Furusato (Hometown). The audience and staff clapped along as the students sang colorful songs sprinkled with nostalgic references to places in their home prefecture.
One Japan Committee for UNICEF staff member commented that, "Their singing made me feel like we can all work together to create a bright future for everyone." Another staff member expressed her optimism, saying, "I hope this experience motivates them to spread this lively energy to the adults of Ishinomaki after returning home."
The generous assistance provided by Japan Committee for UNICEF donors directly contributes to the current and future success of the children at Hebita Junior High School. We would like to thank the students of Hebita Junior High for their beautiful songs and inspiration.
Click here to read about assistance for school lunches in Ishinomaki City
Click here to visit our English Japan Earthquake & Tsunami Emergency Relief website

Click here for the two-year report [7.2MB] »